Johnny Depp Letting Girlfriend Amber Heard Have Bisexual Flings Amid Break Up Rumors, Report Says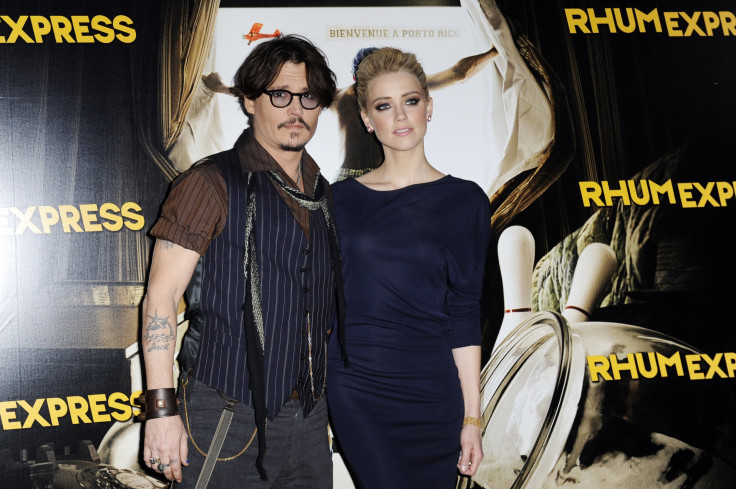 Johnny Depp's girlfriend, actress Amber Heard, may allegedly be sleeping with other people, but her relationship with the "Pirates of the Caribbean" star is reportedly stronger than ever.
While reports that the on-again, off-again couple have called their relationship quits, a report from Look magazine via Entertainmentwise claims the twosome of over one year is nowhere near ready to split. According to the report, the 50-year-old actor has embraced his girlfriend and former "The Rum Diary" co-star's bisexual tendencies, even allowing her to date other women while still remaining an item. "Johnny always knew this aspect of her life was important, and he says as long as she makes it clear he's her number one, she can do whatever she likes," a source revealed to the magazine, claiming the actress' former flings with women is what first attracted him to her. "It's liberating for both of them," said a source.
While Heard, 27, has had a previous long-term relationship with female photographer Tasya van Ree, Depp is reportedly unfazed by the actress' attraction to the same sex. "They are both very honest and open with each other, and this pact has just made them stronger as a couple," said a source. "Amber's always been honest with Johnny and told him from the start that she can't change who she is, and that she'll always be interested in women as well as men."
Despite reports that the famous couple is doing well following Depp's breakup from his girlfriend of 14 years, model Vanessa Paradis, another source is claiming Heard is fed up with her actor boyfriend. "She isn't sure how much more she can take. She's been locked away in his apartment, looking after his kids, but his smothering behavior is driving her crazy," a source revealed to Star magazine via Celebdirtylaundry.com Sunday. According to the report, the blonde beauty is allegedly angry over Depp's depression, following news that his latest film, "The Lone Ranger," was a box office bomb. "He's in a terrible state over the whole thing. He's been relying on Amber to maintain his fragile ego," said a source.
The couple was last spotted together in Moscow in late June. Eyewitnesses reported to the New York Post that they were seen holding hands following one of Depp's multiple overseas premieres of "The Lone Ranger." The acting duo was first rumored to be an item in June 2012, following the conclusion of filming the 2011 dramedy "The Rum Diary."
© Copyright IBTimes 2023. All rights reserved.