'Judgment': 'Yakuza' Spin-Off Gets Gameplay Video [WATCH]
Sega's "Yakuza" franchise has long been a favorite among gamers. The punch-and-kick combat, gangster drama, hilarious side quests, wonderful characters, and cats all played their part in making this game as famous as it is. The recent installment to come from the franchise is a spin-off titled "Judgment."
The spin-off will take place in the same place that "Yakuza" is set in, but will trade the Japanese mafia for disbarred lawyers. Of course, the story of "Judgment" is different compared to "Yakuza," which focuses on Kiryu Kazuma. "Judgment" will instead focus on Takayuki Yagami, a former attorney who decides to become a private investigator after a murder suspect he acquitted burns his girlfriend to death.
Much like "Yakuza," "Judgment's" demo was also filled with cats you could find when in active search mode. This should be good news to fans of the "Yakuza" franchise as cats are vital to the game.
Sega recently released a gameplay video for "Judgment" which you can watch below.
The studio had "Judgment's" lead voice actor, Greg Chun, join the squad at PlayStation Underground in order to show off over 20 minutes of gameplay.
The gameplay video starts out simply enough. The players take on the role of Takayuki Yagami who has been tasked with finding a man called Kaito. They then find him in a building and Yagami is given three different ways to approach the man. The group chooses the put on a disguise option, and Yagami finds a janitor costume. He then uses it to infiltrate the building. The group find themselves in a bit of a sticky situation when they are discovered by one of the goons for not looking like the usual janitor. The group then decide to make Yagami say it's because he had plastic surgery, which is rather silly but very reminiscent of the shenanigans to be found in the "Yakuza" games.
After that, they get into a fight, which shows off some of Yagami's moves. The fighting is very similar to "Yakuza," specifically the Heat actions, however, "Judgment" seems to take it up a notch.
For fans of the "Yakuza" franchise, "Judgment" is set to release on June 25 for the PlayStation 4.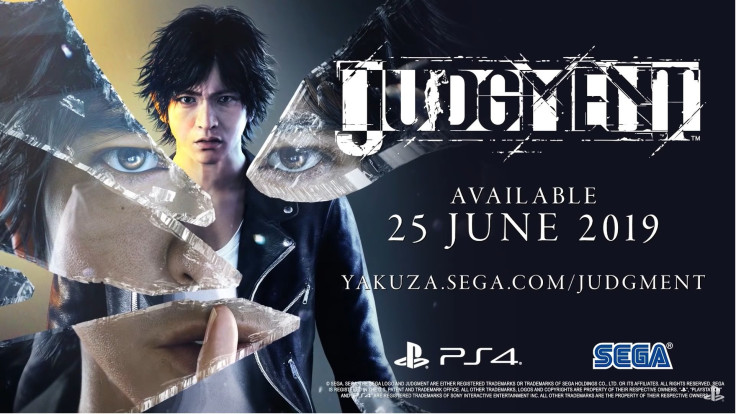 © Copyright IBTimes 2023. All rights reserved.