'Jujutsu Kaisen' Chapter 194 Delayed: New Release Date, Spoilers
KEY POINTS
"Jujutsu Kaisen" Chapter 194 is postponed to a later date
The chapter will release on Manga Plus and Viz
The manga is based on Gege Akutami's original work
The evolution of acceleration has begun as cursed Naoya attacks Maki and Noritoshi at his full velocity.
"Jujutsu Kaisen" Chapter 194 is expected to showcase the next phase of the battle, but fans will not get the new chapter this week.
Chapter 194 of "Jujutsu Kaisen" manga is postponed to Aug. 21.
In the previous chapter, titled "Sakurajima Colony, Part 3," Naoya had evolved into a powerful curse who is filled with hatred toward his enemies in the Culling Game.
Naoya had declared that he returned to kill Maki. Meanwhile, Maki and Noritoshi had no choice but to join their forces together and battle against the cursed Naoya.
The chapter opened with a shot of Naoya looking surprised that Noritoshi survived his attacks. Naoya noted that Noritoshi was indeed a clan head.
Meanwhile, Noritoshi, who was able to stop the attack, remarked that if he hadn't blocked it with blood, he would have lost his arm and head.
Noritoshi stated that he cannot put down his guards because he would perish with just one misstep. He knew he needed to step up his game.
Maki appeared and intercepted the next hit. While battling the curse, she told Noritoshi to be careful of this evolved creature.
Noritoshi noted that Naoya fell into a curse but was able to retain his true personality. Maki said that he could still use his cursed technique. Noritoshi figured that with his projection sorcery he could be the fastest zenin.
As the battle continued, Naoya was able to freeze the air for one second and then strike it to make it explode in the face of his opponents.
"For some strange reason, Yuji Itadori, despite his insane athleticism would rather just hang out with the Occult Club. However, he soon finds out that the occult is as real as it gets when his fellow club members are attacked! Meanwhile, the mysterious Megumi Fushiguro is tracking down a special-grade cursed object, and his search leads him to Itadori...," reads the official synopsis, according to Manga Plus.
"Jujutsu Kaisen" chapters release weekly on Manga Plus and Viz.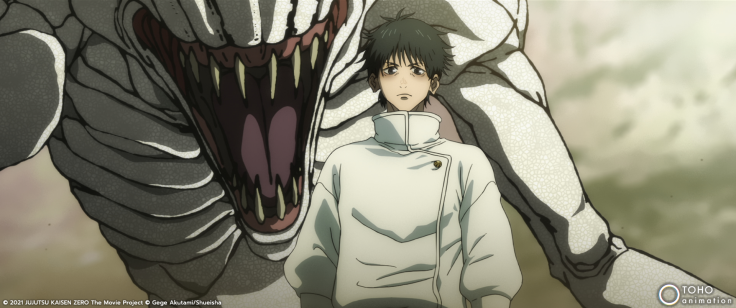 © Copyright IBTimes 2023. All rights reserved.