Justin Bieber's Monkey Seized As Sheriff's Dept. Announces Plans To Prosecute Him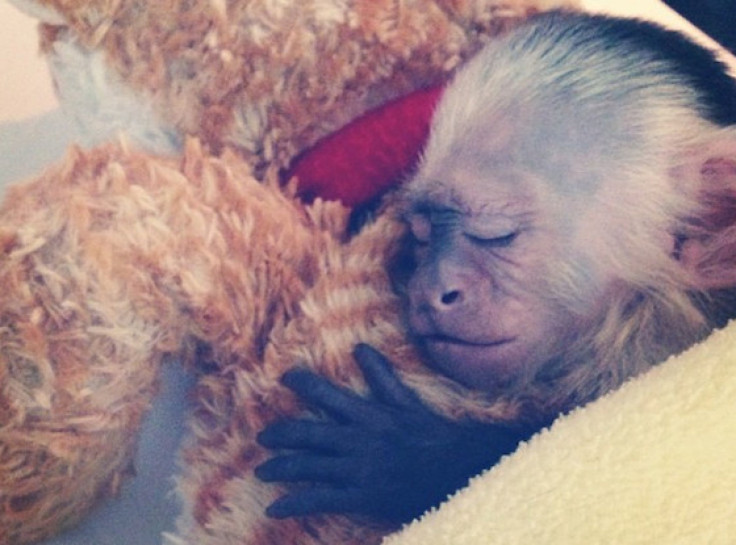 German custom officers seized Justin Bieber's pet monkey on Thursday, when the singer reportedly attempted to fly the animal into the country without the requisite paper work.
According to E! Online, the "Beauty and the Beat" singer was detained and quarantined at Franz Josef Strauss Airport in Munich when officials discovered the capuchin monkey was aboard Bieber's private jet.
"Justin Bieber brought his monkey to Germany, but had no official paperwork with him," the airport's spokesman, Thomas Meister, said. "We were forced to confiscate the animal."
Fortunately, the Canadian-born superstar was eventually allowed to leave the airport with his monkey, whose name is Mally, in tow. On Saturday, he posted a picture of him and his pet sitting together on a couch, with the caption "kickin it with og."
On Sunday, he posted another picture on Instagram, showing the capuchin fast asleep and snuggled up with a stuffed animal. According to Vibe, the animal was given to him as a present for his nineteenth birthday from his friend Jamal Rashid, a record producer.
While Bieber is likely relieved to have the animal back in his custody, the incident will come at a steep price. People magazine reported that Bieber may have to pay a $15,000 fine for the temporary quarantine.
The monkey misunderstanding marks just the latest bad news for Bieber, who has made headlines recently over a series of run-ins with the law. According to a new report, the Los Angeles Sheriff's Department wants to recommend prosecuting Bieber for reportedly spitting on a neighbor.
That incident allegedly took place when another resident who lives in Bieber's gated community in Calabasas, complained that he was driving recklessly. The neighbor, who hasn't yet been identified, told police that when he entered Bieber's property, the musician threatened him and spit in his face.
"The neighbor has complained Mr. Bieber spit on him and made some threats," sheriff's department representative, Steve Whitmore, told the Los Angeles Times. "Mr. Bieber's people say that it did not happen. Obviously, our detectives will determine what happened and take appropriate action."
© Copyright IBTimes 2022. All rights reserved.
FOLLOW MORE IBT NEWS ON THE BELOW CHANNELS