'Kaguya-sama: Love Is War' Season 3, Episode 1 Live Stream, Watch Online [Spoilers]
KEY POINTS
"Kaguya-sama: Love Is War -Ultra Romantic-" Season 3, Episode 1 is airing Friday
The episode is coming out on Crunchyroll
The anime is based on the original story by Aka Akasaka
Kaguya Shinomiya and Miyuki Shirogane are returning for the third season of "Kaguya-sama: Love Is War" anime with new strategies to make this psychological and ultraromantic war interesting.
A teaser video of "Kaguya-sama: Love Is War -Ultra Romantic-" Season 3 titled "Yui Ishigami Wants to Chat" shows Shirogane and Ishigami exploring the life of an otaku.
Shirogane wonders if he wants to come out as an otaku or continue being a closet otaku.
The teaser trailer doesn't seem to be from any particular episode, but it is giving a taste of the kind of writing fans can expect from the third season.
"Shuchiin Academy—an elite school where the most gifted students flock to. It is also where its Student Council brought together Vice President Kaguya Shinomiya and President Miyuki Shirogane. While everyone expected a speedy courtship and agreed that the two geniuses would make the perfect couple, the pair, it seems, has too much pride to confess their true feelings for one another!" the official synopsis of "Kaguya-sama: Love Is War -Ultra Romantic-" Season 3 read.
"The two remain fully committed in devising a highly cerebral strategy in this cunning war of love... Will they take their relationship to the next level by the final day of Shuchiin Academy's culture festival!?" the synopsis continued.
The cast of the anime includes Aoi Koga as Kaguya Shinomiya, Makoto Furukawa as Miyuki Shirogane, Miyu Tomita as Miko Iino, Konomi Kohara as Chika Fujiwara, Yutaka Aoyama as narrator, Rina Hidaka as Kobachi Osaragi, Ryōta Suzuki as Yū Ishigami, Takehito Koyasu as Shirogane's father and Yumiri Hanamori as Ai Hayasaka.
"Kaguya-sama: Love Is War -Ultra Romantic-" Season 3 is based on the original story by Aka Akasaka that was first serialized in Weekly Young Jump by Shueisha. The new season's episodes are directed by Mamoru Hatakeyama.
The character design is by Yuko Yahiro and the series structure is taken care of by Yasuhiro Nakanishi. Hiroshi Yakou, Tetsuya Kawakami and Koji Akitaka are the chief animation directors.
"Kaguya-sama: Love Is War -Ultra Romantic-" Season 3, Episode 1 is scheduled for release Friday at 12:30 p.m. ET. Fans in the U.S. can watch the episode online on Crunchyroll. The episode will stream in Japanese with English subtitles.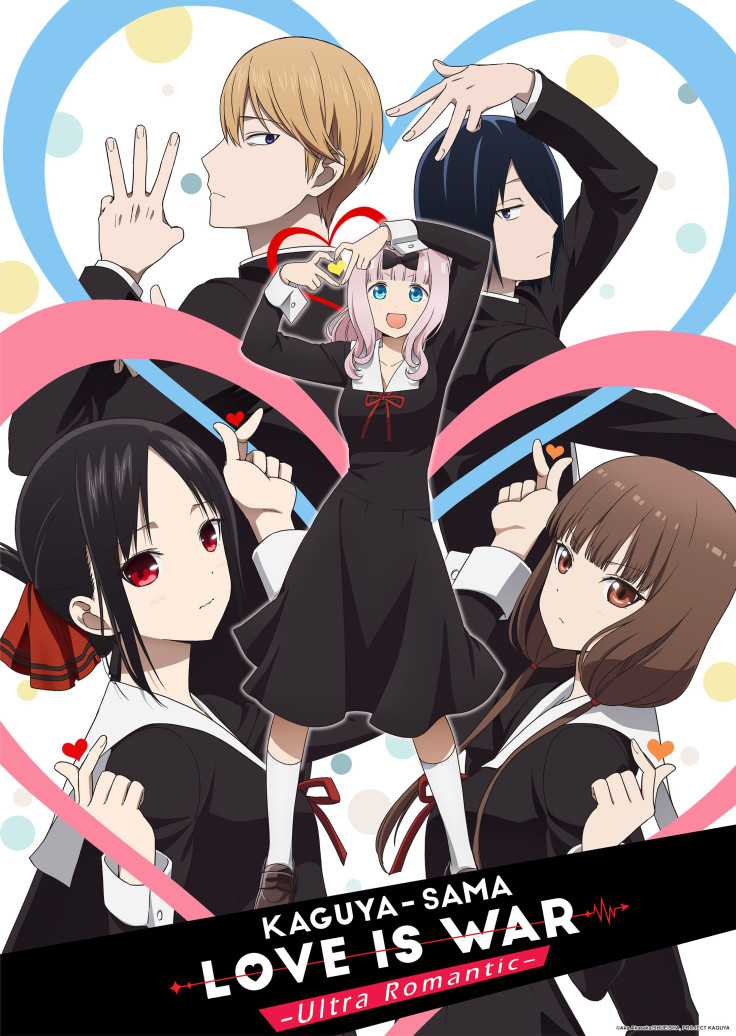 © Copyright IBTimes 2023. All rights reserved.