Kansas Bill Could Soon Legalize Discrimination Against Gays And Lesbians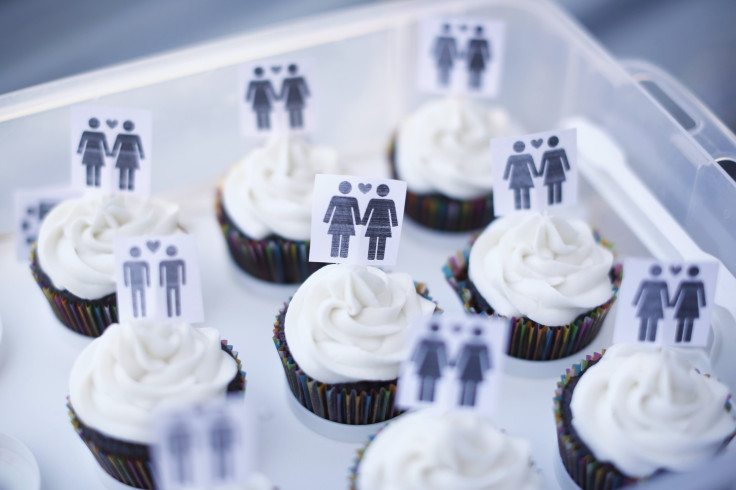 Anti-gay segregation could soon become a legal reality in Kansas if a new bill passes in the state senate.
On Wednesday, the Kansas House passed HB 2453, which offers legal protection to individuals and businesses that refuse service for same-sex couples, specifically those looking to get married. Under the bill's language, individuals, businesses and government employees would be immune from legal reprisal for refusing service if they have "sincerely held religious beliefs" opposing customers' orientation. HB 2453 was approved by the Kansas House 72-49 and is set to move on to the state senate.
According to the text of the bill, HB 2453 would prevent any legal action against groups or individuals who "provide any services, accommodations, advantages, facilities, goods, or privileges; provide counseling, adoption, foster care and other social services; or provide employment or employment benefits" to couples.
Liberal groups in Kansas are outraged by the bill, which many see as an effort to keep LGBT Kansans second class citizens. Others say the bill is a subtle effort to deprive same-sex couples of government benefits, by allowing bigoted government workers to simply refuse them service.
"Every single rural county in this state has same-sex couples," Equality Kansas spokesman Thomas Witt told the Kansas City Star. "Government officials in those counties are going to be able to turn them away from services that they deserve as taxpayers."
Despite the backlash against the bill, its sponsor, Rep. Charles Macheers, says he believes he's fighting discrimination with HB 2453. According to Macheers, he's protecting religious organizations from discrimination by gays.
"Discrimination is horrible. It's hurtful … It has no place in civilized society, and that's precisely why we're moving this bill," Macheers said on the Kansas House floor. "There have been times throughout history where people have been persecuted for their religious beliefs because they were unpopular. This bill provides a shield of protection for that."
Other proponents of the law say that it does not specifically encourage discrimination against gays and lesbians. Under the technical language of the bill, Rep. Mark Kahrs tells the Star Ledger, anyone with a sincere belief against heterosexual marriage could deny service to straight couples.
Still, the bill's technical language and its real-world effects are different issues. Kansas, as a state that already bans same-sex marriage, certainly has a much larger population that is biased against gays and lesbians than against straights, and many believe the law will effectively legalize open discrimination against gays and lesbians.
"Kansans across the state are rightly appalled that legislators are spending their efforts to pass yet another piece of legislation that seeks to enshrine discrimination against gay and lesbian people into law," state chairwoman Sandra Meade told CNN.
"HB 2453 is a blatant attempt to maintain second-class-citizen status for tax-paying gay and lesbian Kansans."
© Copyright IBTimes 2023. All rights reserved.
FOLLOW MORE IBT NEWS ON THE BELOW CHANNELS