Kanye West's 'Life Of Pablo' Tidal Exclusive Could End Up Costing Him Millions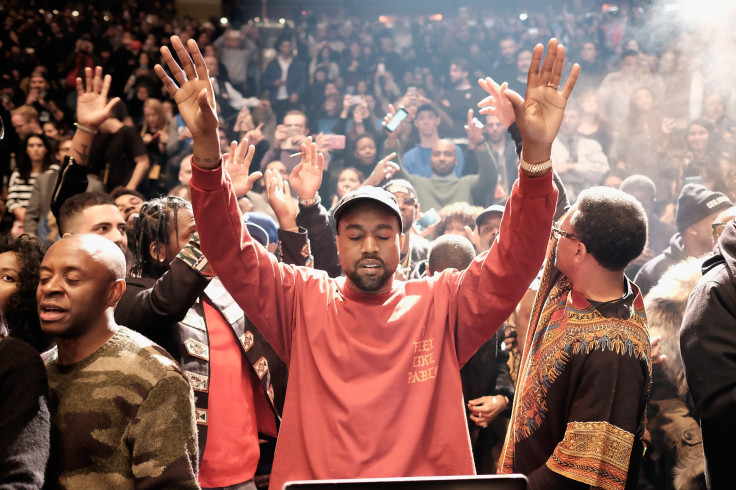 There are people in the music industry who will tell you that albums are loss leaders, a way to get fans to open up their wallets to buy something else. Kanye West is putting that wisdom to the test with "The Life of Pablo," and early returns suggest that the experiment is failing spectacularly.
On Monday, West announced on Twitter that his newly released album will never be available anywhere but Tidal, the streaming music service that he partly owns.
That marked an abrupt change from an earlier pronouncement that implied "Pablo" would be available through conventional retailers within a week, and it felt all the more dramatic given that West just confessed he's $53 million in debt.
It's difficult to guess just how much money West is leaving on the table by conducting this high-stakes experiment. "Pablo" has really only been available since Saturday night, and West's inimitable talent for drawing attention to himself will keep the album in headlines for the next few weeks.
But early indications of how it's going have emerged, and they are not good. While Tidal is now at the top of the Apple app store's free apps chart, it's nowhere near that high in Google Play, Android's app store. There, it's sitting at No. 77, behind seven other music apps, including Spotify, Pandora and SoundCloud.
It's also looking like the album hasn't been a runaway success among Tidal's listeners. While Tidal was happy to announce that Rihanna's album "Anti" was streamed more than 13 million times on its service within hours of its Jan. 28 release, its reps declined to reveal any statistics about how many times its users have listened to "Pablo" or how many people have signed up for the service.
Those 13 million streams were good enough to land "Anti" in the ranks of the most-streamed albums of the week, according to BuzzAngle Music; it debuted at ninth overall. As of Tuesday morning, "Pablo" does not rank among the 500 most-streamed albums, according to BuzzAngle.
That absence should be noted with an astrerisk; Tidal has been late in providing data to BuzzAngle, according to its founder, Jim Lidestri. But even with the incomplete data, it appears unlikely "Pablo" will hit the top of BuzzAngle's streaming chart, never mind its overall chart, which factors sales into its rankings as well. "It doesn't look likely right now," Lidestri said.
This is all the more significant because West was enjoying a considerable bump in listens as people got excited about "Pablo's" forthcoming release. At the end of last week, every one of West's albums had leaped back into the streaming charts except "Pablo." Six, including "Watch the Throne," his album-length collaboration with Jay Z, had climbed back into the top 100; his most divisive (though some would say most influential) album, "808s & Heartbreak," hopped up to 156.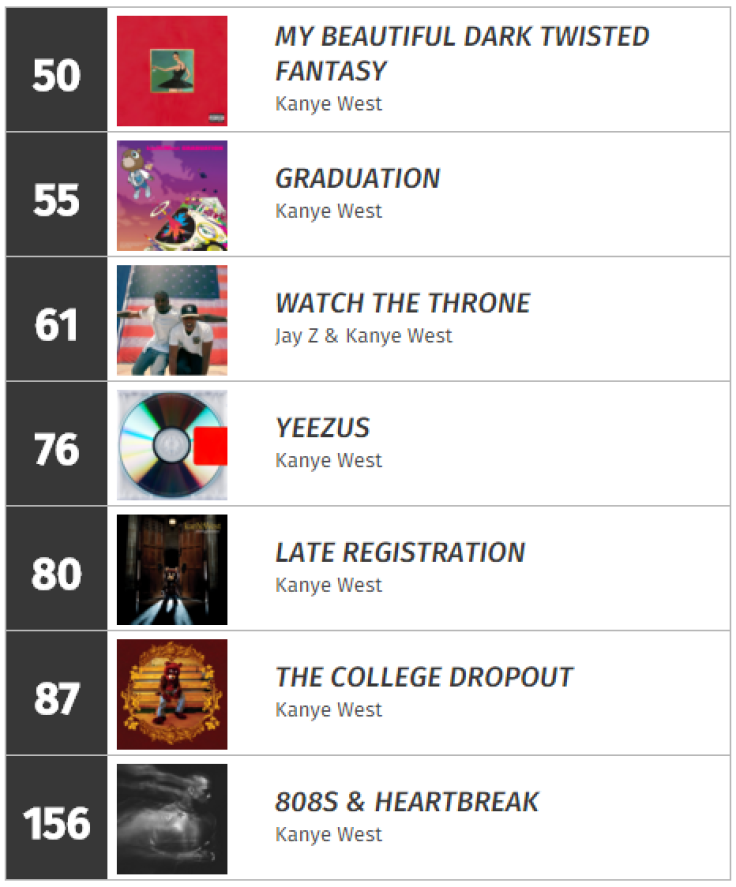 If there's one place West's album has been a tremendous hit, it's with file sharers. "The Life of Pablo" has already been torrented more than 500,000 times, according to one estimate, and there were more than 10,000 internet users simultaneously hosting illegal downloads of the album, a level of activity that the piracy-focused news website TorrentFreak had never observed before.
It's possible more than a few of those infringers are miffed Kanye fans who shelled out for a ticket to last week's listening party. Those tickets were sold with download codes, codes whose fate is uncertain now that West has said that "Pablo" will never be put on sale.
While West could make up a lot of this shortfall by hitting the road, he has not been an enthusiastic tourer in recent years. His last tour, a 26-city run in support of his album "Yeezus," grossed $31.8 million in 2013, according to Pollstar. That same year, Beyoncé grossed $188.6 million and sold nearly five times as many tickets on her own tour, despite not having an album to promote (her surprise, self-titled album surfaced in December of that year).
Of course, if enough people blink and sign up for Tidal, West could wind up looking like a genius. As nice as it is to sell hundreds of thousands of copies of an album at $10 apiece, that payday would be dwarfed by the prospect of locking tens or hundreds of thousands of people into subscriptions that pay $10 or $20 per month. West would get only a small percentage of that revenue, but he'd also get credit for turning around a service that has progressed fitfully since its relaunch last spring.
But if people don't blink, and simply choose to do without "The Life of Pablo," this could wind up being an era-defining blunder from an artist who, if his tweets are to be believed, can least afford one right now.
FOR FREE to continue reading
✔️ Unlock the full content of International Business Times UK for free
offer available for a limited time only
✔️ Easily manage your Newsletters subscriptions and save your favourite articles
✔️ No payment method required
Already have an account?
Log in
© Copyright IBTimes 2023. All rights reserved.