Kate Middleton Cut Hair Because Of Busy Lifestyle Looking After Prince George And Princess Charlotte, Says Hairdresser Richard Ward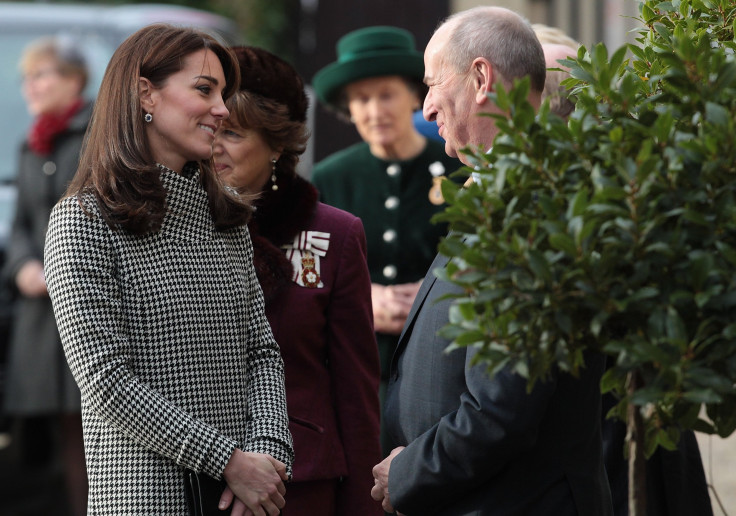 Three months after debuting mid-length bangs, Kate Middleton has switched up her hairstyle again. This time the mother of two cut her brunette locks into a long bob, dubbed the "royal lob" by her hairdresser Richard Ward.
Speaking to People magazine Friday, Ward revealed that the 33-year-old decided to chop off some of her hair because of her hectic lifestyle. Besides attending royal engagements, Prince Williams' wife is busy caring for her two-year-old son Prince George and seven-month-old daughter Princess Charlotte.
"It's a practical style and great option for a mom who has had long hair, who has a busy life and is short on time," Ward explained. "It's slightly more sophisticated but with all the benefits of long hair."
Middleton debuted her chic new look Wednesday while at a Christmas charity event in London. The "royal lob" still allows Middleton's hair to keep her bouncy, loose waves but ends just past her shoulders.
Ward told the outlet that, like Middleton's other hairstyles, he thinks the "royal lob" will soon become a popular go-to look for busy women.
"Her looks will always be hugely followed and copied," he told the magazine. "If you look like she does, pretty much anything will suit you!"
As previously reported, the Duchess of Cambridge stepped out in September with a fringe, aka bangs. However, she let them grow out amid rumors that she no longer liked the look because of mixed reviews.
At the time, Ward told British television program "This Morning" that Middleton's bangs were a quick way for her to switch up her look without doing anything drastic.
"It can add structure, soften the face and highlight or define features and is a very youthful look," Ward said. "They aren't too bold but can completely change your look without having to lose any length and are easy to grow out if you're not quite sure."
© Copyright IBTimes 2023. All rights reserved.