Kate Middleton Didn't Tell Angelina Jolie To Take Back Brad Pitt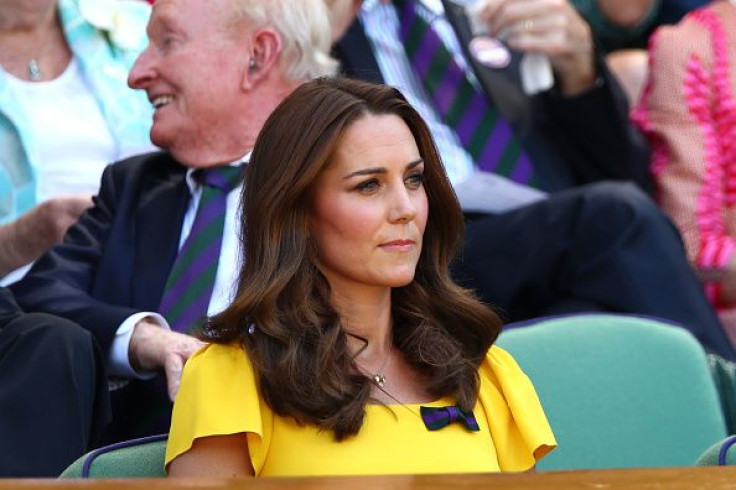 Kate Middleton didn't advise Angelina Jolie to get back with Brad Pitt.
According to Gossip Cop, there is no truth to reports claiming that the "Maleficent" star and the Duchess of Cambridge had a "secret meeting" about Brad Pitt. It's also not true that Middleton advised the actress to get her ex back. The two reportedly got close over the years through their "charity work."
The story originated from OK! claiming that Jolie has to sneak away from filming "Maleficent 2" because she had to catch up with Middleton. During their alleged encounter, Middleton reportedly "carefully asked how things were going since the split."
"[Angelina] poured her heart out… about everything she'd been through this past year and a half, the difficulty in raising six kids as a single mom, their custody issues and missing Brad," the so-called insider said.
"She [Middleton] told Angie she should take Brad back," the unidentified source continued. The Duchess reportedly said that "if Angie could find it in her heart to forgive him, it's worth giving their union another shot."
According to the rumor-debunking site, the report was clearly fabricated because the insider kept on addressing Middleton informally as "Kate." In addition, the royal mom of three is busy with her family to "do what she can to help this couple in distress."
That's not all, the publication insisted that it makes no sense that Middleton is only stepping in now when it's been nearly two years since Pitt and Jolie split. The publication also didn't specify when and where the "secret meeting" took place.
The same publication also denied the rumors that Pitt was trying to get back with Jolie by using their children's custody negotiations. It's not true that the "Furious" actor was hoping that their private talks would "create sparks between them again."
In related news, Jolie reportedly took fashion cues from Meghan Markle when she attended the Service of Commemoration and Dedication of the Most Distinguished Order of St. Michael and St. George in London in June. The "Salt" star arrived in a Ralph & Russo pale grey dress with a cowl neck, matching gloves and trendy fascinator to which many find to be so similar to the Duchess of Sussex.
© Copyright IBTimes 2023. All rights reserved.