Kate Middleton Lovingly Strokes Prince William's Shoulder, Looks At Duke Admiringly In Photo
Kate Middleton just engaged in a rare public display during this week's royal engagement with Prince William. The royal couple rarely shows affection towards each other whenever they are in public especially in recent years.
But during their engagement at the Aga Khan Center in London, the mom of three was spotted stroking Prince William's arm. In the photo, the Duchess of Cambridge is also staring at her husband with so much admiration.
Middleton is wearing a green long-sleeved dress to the event. Prince William, on the other hand, is wearing his usual suit and tie. While the second in line to the throne is talking to a group of people, Middleton is looking directly at Prince William.
Prince George's mom doesn't look very engaged in the conversation in that particular moment because her gaze was directed at her husband. Prince William didn't reciprocate Middleton's gesture because he was focused on his discussion. But by the looks of it, the Duchess of Cambridge didn't mind.
In another photo, Princess Charlotte's mom is laughing hysterically at something at Prince William said. Even though the couple has been married for eight years, it is evident that the Duke of Cambridge is still able to entertain his wife with his witty remarks.
In the past, body language expert Robin Kermode said that Queen Elizabeth and Prince Philip set the precedent for other royals to follow when it came to public displays of affection. Since the senior royals didn't do this much, the royals that came after them didn't engage in the same loved-up gestures.
But every now and then, there are exceptions to the rule. Even though Prince William and Middleton are not as affectionate at Prince Harry and Meghan Markle when they're in public, there were times when the couple was photographed hugging and kissing each other.
In fact, one of their throwback photos shows Prince William and Middleton kissing each other on the lips.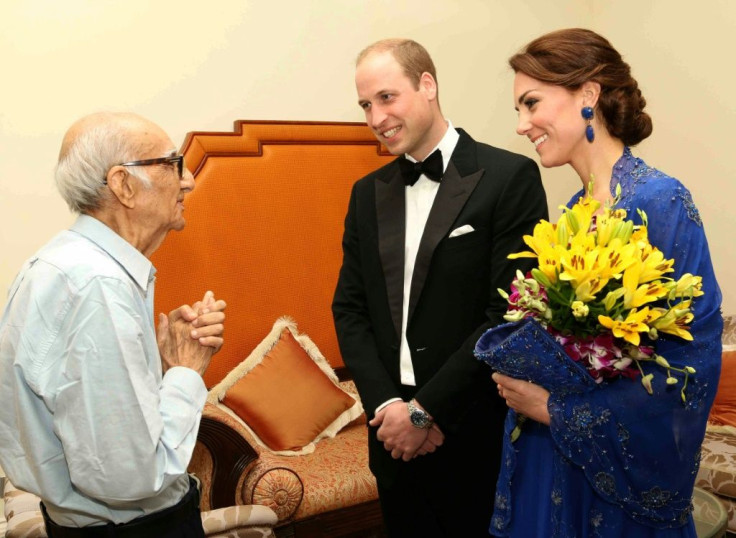 © Copyright IBTimes 2023. All rights reserved.