Kate Middleton, Prince Charles, Princess Diana Had These Awkward Moments In Public
Kate Middleton, Prince Charles, Princess Diana, Meghan Markle, and the other members of the royal family have all been seen in awkward situations.
Hello! magazine recently compiled photos of the royal family in some of their most awkward moments, starting off with the Duchess of Cambridge. Last year, Middleton's heel got caught in a metal drain on St. Patrick's Day.
The mom of three, who was pregnant with Prince Louis at that time, was photographed bending down to fix her shoe. Middleton was joined by Prince William, but the future King did not help his wife fix her heel.
Months later, Queen Elizabeth II was photographed walking behind US President Donald Trump. On July 2018, Trump visited the Windsor Castle, where he met Her Majesty.
The awkward moment between the two was made even worse when Trump suddenly stopped dead in his tracks right in front of the monarch. The Queen took a sidestep to overtake Trump, and Twitter users were not pleased with what they saw.
"I cannot believe how disrespectful Donald Trump is. Leave the Queen waiting for over 10 minutes, doesn't bow, and then walks directly in front of her," one person tweeted.
In 2015, Prince Charles and Camilla Parker Bowles attended the Sandringham flower show. While there, the royal couple met the mascot of the Army Air Corps, Zephyr the eagle.
During their meeting, the eagle became startled and attempted to fly away. Prince Charles and Camilla were photographed with a shocked look on their faces.
Several years ago, Princess Diana met lifeguards at Terrigal beach during her visit to Australia. The mom of two was photographed standing in the middle of the lifeguards who are wearing nothing but their trunks.
To make light of the situation, Princess Diana said that she has been waiting the entire day to share a moment with the lifeguards.
Last year, Markle was also caught in an awkward situation when she became confused about whether she or the Queen should ride the car first.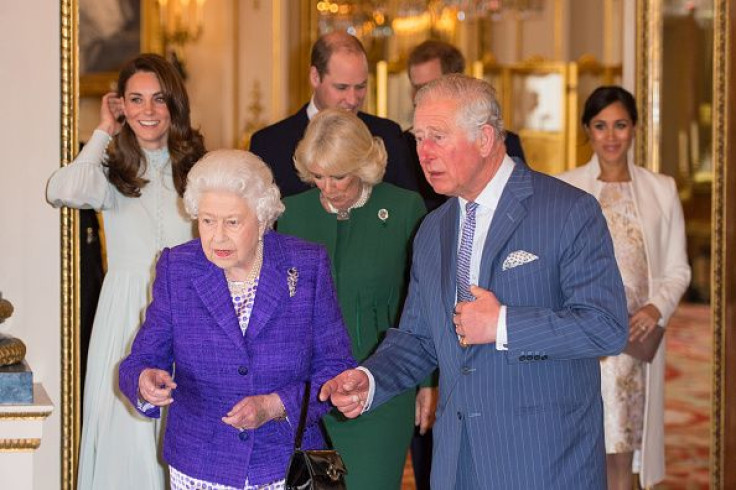 © Copyright IBTimes 2023. All rights reserved.