Kate Middleton Snaps 'Superb' Photos Of Duchess Camilla For Magazine Cover
Kate Middleton snapped photos of Camilla, Duchess of Cornwall, ahead of her 75th birthday on July 17. In a statement on Instagram, Camilla revealed she had personally invited the Duchess of Cambridge to photograph her for the new cover of British magazine Country Life.
"In celebration of The Duchess of Cornwall's upcoming 75th birthday and the magazine's 125th anniversary, Her Royal Highness has guest edited a special commemorative edition of @CountryLifeMagazine, to be published on Wednesday 13th July," the statement reads. "Commissioned by The Duchess of Cornwall as guest editor, Her Royal Highness invited The Duchess of Cambridge to capture the cover image at her home in Wiltshire, Raymill."
The cover image shot by Kate shows Camilla, a passionate gardener, in a blue-and-white floral dress, holding a basket of pelargoniums. Another image, which shows the Duchess gallivanting through her garden, will appear in the commemorative edition that will be published on July 13.
Country Life editor Mark Hedges had asked Camilla if she had any thoughts about her photo for the magazine cover, and the Duchess immediately answered, "Oh, I'd quite like Catherine to do it," the Telegraph reported.
Hedges revealed he did not get what Camilla meant at first until he realized she was referring to the Duchess of Cambridge. "I spent the next three or four minutes desperately racking my brains trying to think of a professional photographer called Catherine," he told the outlet. "Then suddenly I grasped what she meant—one of the most amazing things that could happen. I found it one of the easier things to nod my head at," he added.
Camilla's Instagram statement about the shoot comes with a behind-the-scenes photo of Kate expertly taking Camilla's photo while dressed in a brown top, jeans and sneakers.
In a statement following the shoot, Hedges said he was thrilled with Kate's work. "We understand this is the first time a formal portrait of The Duchess of Cornwall has been taken by The Duchess of Cambridge for a magazine and we are honored to have been chosen to be the first to publish this beautiful photograph," he said. "The photographs are superb and we would be delighted to offer The Duchess of Cambridge another commission!"
The upcoming Country Life issue marks Camilla's second magazine feature in 2022 so far. She is also the third royal to guest edit the magazine, next to Prince Charles and Princess Anne.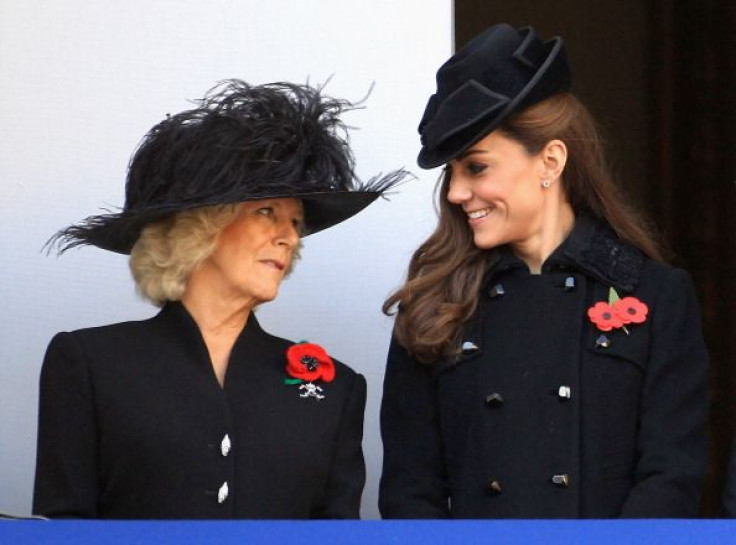 © Copyright IBTimes 2023. All rights reserved.