Kate Middleton Stuck In Traffic On Her Way To Prince George's School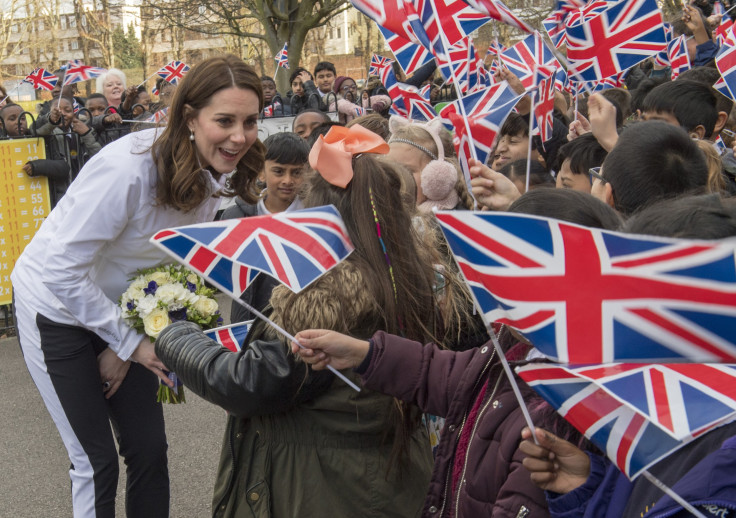 Kate Middleton has experienced the inconvenience of being stuck in traffic too.
On Friday afternoon, the Duchess of Cambridge was photographed at the wheel of her Range Rover. Middleton was caught in traffic as she made her way to fetch Prince George from school, Daily Mail reported.
Middleton waited patiently while insider her car. She's ahead of a number 11 bus on the Kings Road in Chelsea. In one snap, the pregnant royal mom seems to be smiling suggesting that the rush hour traffic did not bother her.
At the time, Prince George is attending classes at Thomas's Battersea in London. Prince William and Middleton were set to join him on his first day of school. However, the duchess did not make it due to hyperemesis gravidarum.
Despite Middleton's absence, the four-year-old tot looks adorable on his first day of school portrait. In fact, he looks confident and smart as he holds his dad's hand in the right and placed his other hand inside his pocket.
Middleton is busy with her royal engagements, but she always takes time to be with her children, Prince George and Princess Charlotte. In fact, when her little princess made her first day of school earlier this month, the duchess showed off her photography skills again.
Kensington Palace showed the photos on Twitter captured by Middleton. In the snap, many noticed Princess Charlotte's resemblance to Queen Elizabeth II. The Duke and Duchess of Cambridge also escorted their two-year-old daughter on her first day of school at Willcocks Nursery School in Kensington.
This week Middleton has been busy with a number of royal duties. On Wednesday, she visited Bond Primary School in Mitcham. During the said sighting, she played tennis with the kids and confessed that she has become less sporty after giving birth to Prince George and Princess Charlotte.
"A big thank you from me as well because I've loved playing with you all - it's so energetic and exciting to be part of it, so well done for all the hard work," Middleton said. "And I love tennis. I think it's a great sport, I was really sporty when I was little, less so now that I've got lots of babies," she added while patting her growing baby bump.
© Copyright IBTimes 2023. All rights reserved.