Kate Middleton Admits She's Less Sporty After Prince George, Princess Charlotte's Arrival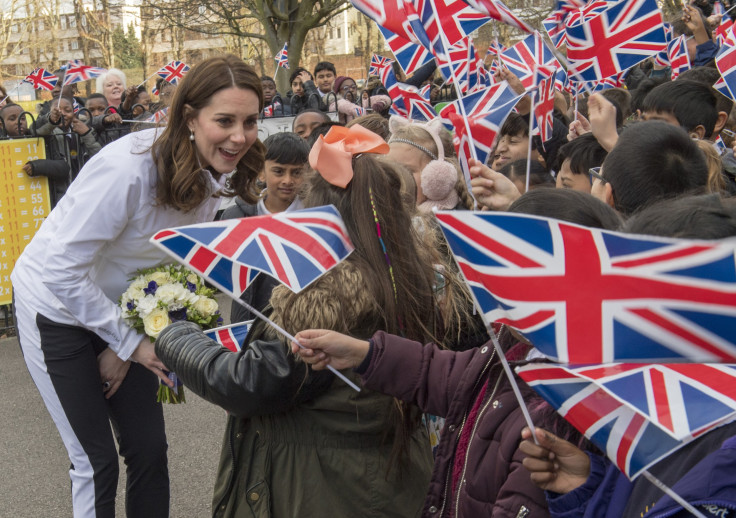 Kate Middleton has become less sporty after having two kids and counting.
On Wednesday, the Duchess of Cambridge visited Bond Primary School in Mitcham. Middleton, the Patron of the All England Lawn Tennis and Croquet Club, wanted to see the work of the Wimbledon Junior Tennis Initiative. During her visit, pregnant Middleton played tennis with the young students. According to the duchess, she had fun playing with the children and acknowledged the efforts of the organization. She also confessed that though she loves tennis, she became less sporty after giving birth to her babies, Hello! reported.
"A big thank you from me as well because I've loved playing with you all - it's so energetic and exciting to be part of it, so well done for all the hard work," Middleton said.
"And I love tennis. I think it's a great sport, I was really sporty when I was little, less so now that I've got lots of babies," she said while patting her growing baby bump.
Middleton is already a mom-of-two. She has Prince George and Princess Charlotte. In addition, she and Prince William are expecting their third baby in April.
When Middleton was about to leave, the children lined up to say goodbye to Prince George and Princess Charlotte's mom. However, instead of giving her a polite handshake, some of them couldn't resist but embrace the royal mom. Middleton showed her motherly instincts by returning the children's hugs.
"How delightful that it didn't feel like royalty at a distance but royalty amongst the people," Despo Stevens, headteacher said. "I'm in awe of how down to earth and engaged she was with everyone. The children didn't hesitate in showing her affection - that is how they are here - and she didn't seem to mind at all. I'm sure her mothering instinct came out."
On Tuesday, Prince William and Middleton visited Coventry. During the said outing, Middleton noticed a pale young boy, her motherly instincts kicked in as she approached and handed him a brown paper bag in case he got sick.
Middleton's third baby will arrive in April. However, the pregnant mom is not slowing down when it comes to her royal duties. In fact, at the end of the month, the Duke and Duchess of Cambridge will be flying to Sweden and Norway for an official visit. Their royal tour includes dinner with "Tomb Raider" star Alicia Vikander.
© Copyright IBTimes 2023. All rights reserved.