Kate Middleton Topless Photos To Be Published By Italian Magazine Chi Despite Legal Action Against Closer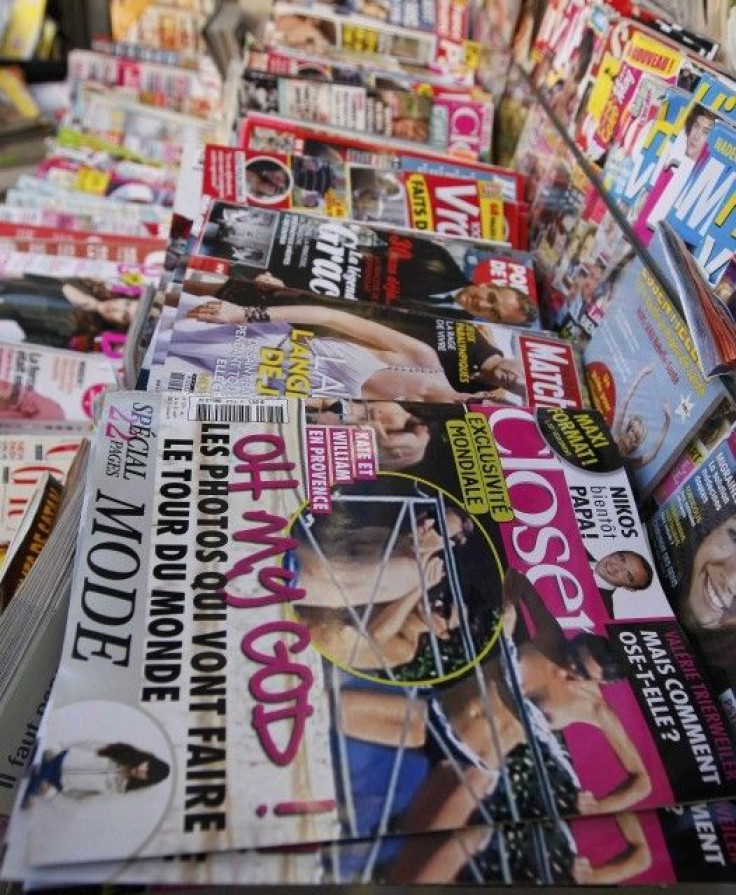 Just when Kate Middleton couldn't be more embarrassed -- or the royal family more incensed -- news broke Saturday that an Italian magazine will also publish the topless Middleton photos.
Despite being slapped with a lawsuit against his French magazine Closer, former Italian Prime Minister Silvio Berlusconi will publish the photos in his Italian magazine Chi as well, according to the Guardian. This story comes in the wake of news that an Irish tabloid also published the pictures.
News broke Friday that paparazzi from Closer were able to get pictures of a topless Middleton while she sunbathed with her husband Prince William on private property. The Duke and Duchess of Cambridge have begun legal proceedings against Closer in an attempt to minimize the damage, reported TMZ.
The photos in question were taken when the royal couple took a private holiday at the French chateau of Queen Elizabeth's nephew, Lord Linley.
Both Chi and Closer are under the domain of Berlusconi's Mondadori publishing empire.
The royal family are reportedly considering legal action against Chi, as well. Although the BBC reported that Kate and William are upset by what they call a "grotesque and unjustifiable invasion of privacy," one editor at Closer said he has no fear of any legal action.
"I don't see anything morbid or damaging in them," editor Alfonso Signorni told TMZ. "Chi pays attention to people's dignity. I don't think they hurt Kate's image." Signorni added that the pictures were part of public domain now.
"The fact that these are the future rulers of England makes the article more interesting and topical," Signorini told reporter before adding, "This is a deserving topic because it shows in a completely natural way the daily life of a very famous, young and modern couple in love."
On Friday William and Kate avoided the media spotlight by rock climbing in Borneo. The couple are on an Asia-Pacific tour.
Another Closer editor defended the magazine's decision to publish the photos. In a defense that's almost certainly to be echoed by the Italian press, Laurence Pieau told a French news channel she couldn't believe the reaction the pictures have attracted, according to the Guardian.
"There's been an over-reaction to these photos. What we see is a young couple, who just got married, who are very much in love, who are splendid," Pieau said. "She's a real 21st century princess. It's a young woman who is topless, the same as you can see on any beach in France or around the world."
Berlusconi is the former Italian prime minister who fell from power during the euro zone crisis last year. He has been the target of numerous criminal investigations and is currently on trial on charges of having sex with underage prostitutes during "bunga bunga" parties.
© Copyright IBTimes 2023. All rights reserved.