Kate Middleton Will Have This Title, Role When Prince William Becomes King
Kate Middleton is set to become a queen when Prince William takes over the throne.
When the Duke of Cambridge becomes the king after Prince Charles, the Duchess of Cambridge will be known as the queen consort. Middleton will have her own official coronation alongside Prince William.
"Unless decided otherwise, a Queen consort is crowned with the King, in a similar but simpler ceremony," the royal family's website read (as quoted by Heart.co.uk).
The publication noted that it would not be the same the other way round. If Middleton was next in line to the throne, Prince William would not automatically become king consort. In fact, Prince Philip is not addressed as king because husbands don't inherit their royal wife's title.
As for Middleton's role as queen consort, the role would mostly be the same as what she does now. She has to support her husband's royal duties by attending engagements and visiting foreign countries.
As for her coronation, it would be modest compared to Prince William's. According to Alice Scarsi, a journalist from Daily Express, the coronation ceremony will take place months after the monarch's accession. This will usually happen at the end of the mourning period honoring the previous head of state.
Middleton has just returned to her official duties as a royal after a six-month maternity leave. The Duke and Duchess of Cambridge attended their first joint engagement at the first Global Ministerial Mental Health Summit in London, an event that aims to improve mental health around the world.
For the outing, the couple agreed to recycle the outfits that they wore during their official visit to Germany in 2017. Middleton donned the purple A-line dress by British designer Emilia Wickstead. On the other hand, Prince William sported the same suit and tie combination.
The Duke and Duchess of Cambridge joined the other members of the royal family last Friday to witness Princess Eugenie and Jack Brooksbank's royal wedding. On the said event, Prince William and Middleton showed rare PDA.
The couple was photographed with Prince William holding Middleton's hand on his lap. In another shot, the couple stood beside each other with the duke touching his wife's back.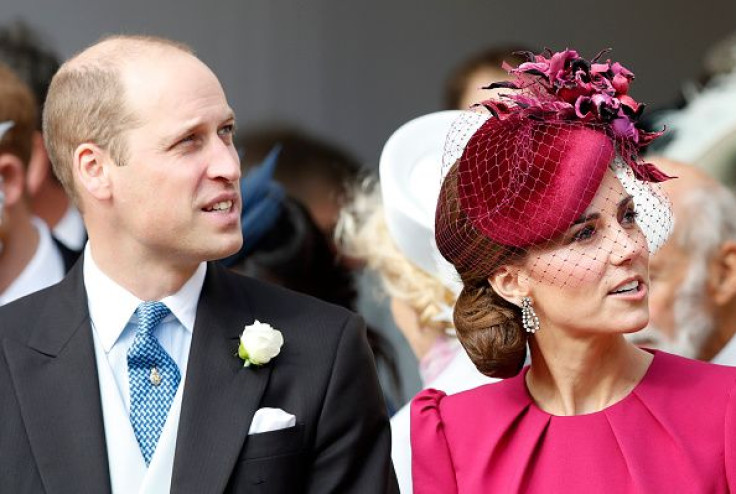 © Copyright IBTimes 2023. All rights reserved.