Kate Middleton Accidentally Flashes Thighs At Princess Eugenie's Royal Wedding
Kate Middleton accidentally flashed her legs at Princess Eugenie's royal wedding.
On Friday, the Duke and Duchess of Cambridge joined the other members of the royal family to witness Princess Eugenie and Jack Brooksbank's exchange vows. Middleton arrived in a stunning pink Alexander McQueen dress.
Suddenly a gust of wind courtesy of Storm Callum whooshed Middleton's skirt up. The duchess was photographed quickly padding her dress down. She remained composed and was still smiling.
According to Myka Meier, founder of Beaumont Etiquette, the royals have a technique to avoid the embarrassing Marilyn Monroe moments. Middleton and Meghan Markle reportedly use a particular clothing to address this.
"Often they wear body suits and clothes that actually increase static so it's much hard for something to fly up," Meier told The Sun. "So you have an undergarment that is almost like a body suit that is one tactic that is used."
"I know when I went to finishing school we were taught that when you are on the tarmac if you do not use weights or heavy weighted material, you make sure it will not fly up by wearing undergarment that keep the fabrics connect to your body," she continued. "Also the undergarment would be chosen for that reason."
On the other hand, Queen Elizabeth II has a different way to solve this problem. The Queen simply adds weight to her skirt.
"I just pop a couple of weights into the hemline of her dresses and coats and it makes them hang beautifully," Stewart Parvin said.
In related news, Middleton and Prince William have become more tactile after welcoming their third child Prince Louis. Body language expert Judi James noticed that the Duke and Duchess of Cambridge have become more comfortable in showing PDA.
"There seems to have been some intrinsic changes in the body language of Kate and husband William since the birth of their third child," James told Express. "The pair always look happy and loving but usually in a non-tactile way,"
"This tendency to touch in public seems to be a new trait for them. It could be a signal of delighted parenthood but it might also have been prompted by the very tactile displays from Harry and Meghan," the body language expert added.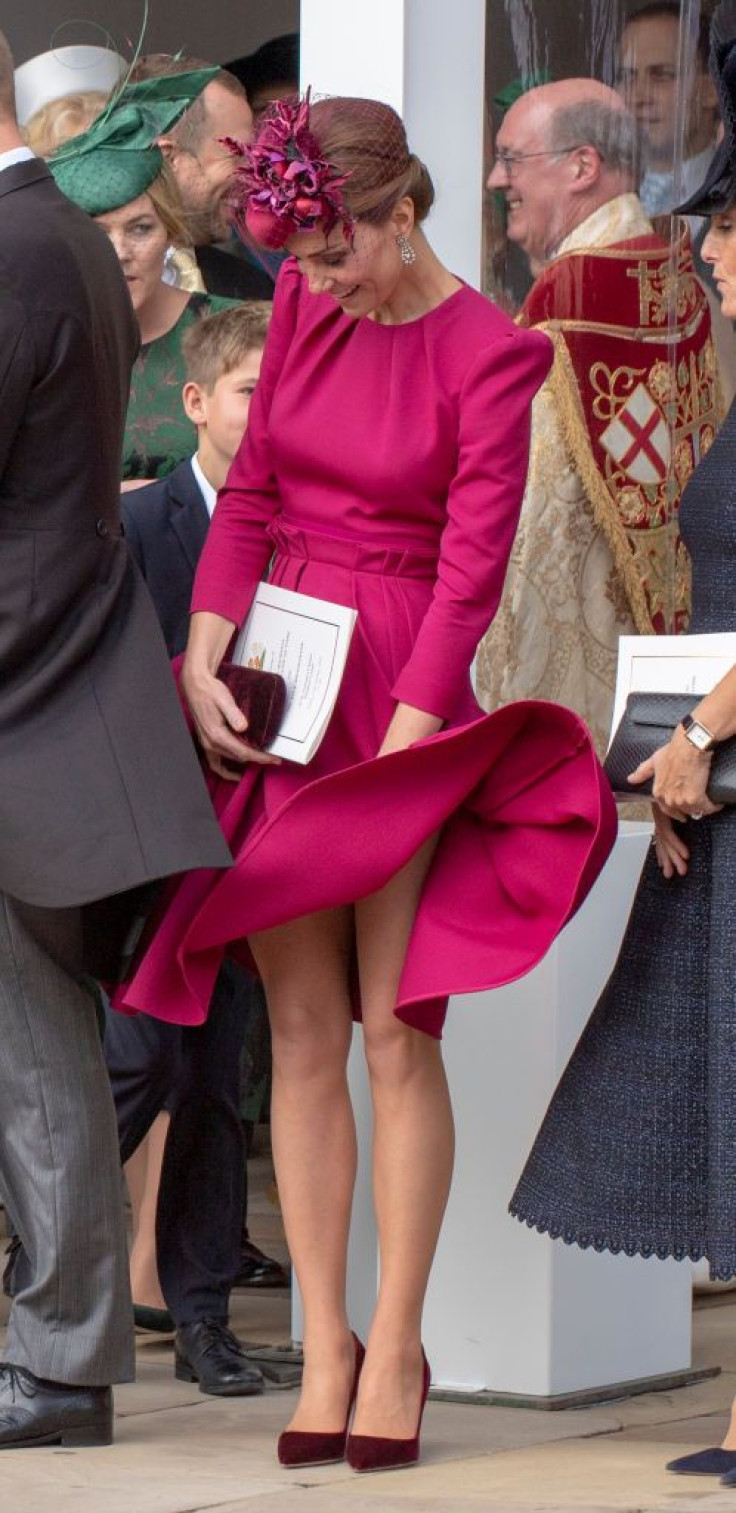 © Copyright IBTimes 2022. All rights reserved.
FOLLOW MORE IBT NEWS ON THE BELOW CHANNELS