Kate Middleton Will Serve As Meghan Markle's 'Go-To Person,' Says Royal Expert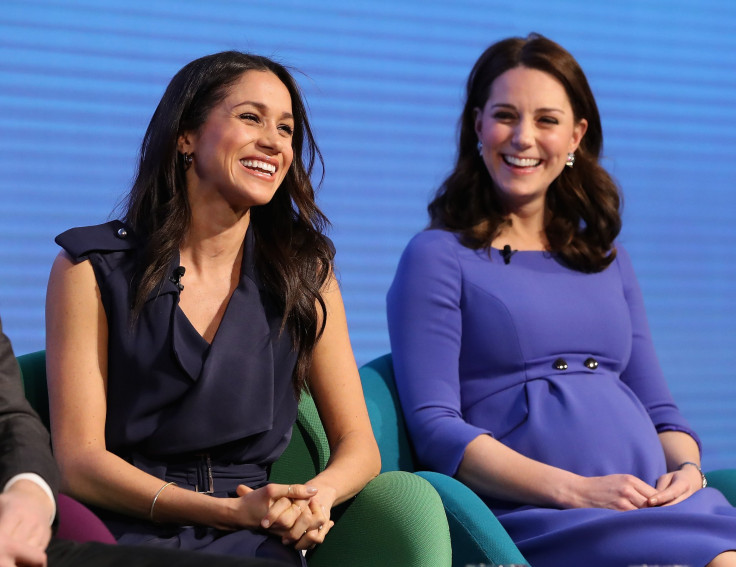 Kate Middleton and Meghan Markle's relationship will be different now that the latter has tied the knot with Prince Harry.
Kelly Lynch, a royal expert, told Express that Middleton will serve as Markle's "go-to person" for everything. "Meghan and Kate appear to be very different. Kate Middleton has rarely – if ever – put a foot wrong since joining the royal family. Even when she and William were dating, Kate never spoke about their relationship, argued with paparazzi who were tailing her, or embarrassed herself," she said.
Lynch is convinced that since Middleton is a good influence on Markle, the former "Suits" star will rely on her sister-in-law at all times.
"I believe that Kate will be the go-to person for Meghan after she's been taught protocol and etiquette from courtiers and experts ahead of major events. Meghan will likely look to Kate for reassurance that she's doing alright," she said.
But this is not to say that Markle will be her own person. The "Suits" alum has already made a name for herself even before she started dating Prince Harry. Most recently, Vogue UK named her as one of the Women Shaping 2018.
The publication noted, "Her influence stretches far beyond the ceaseless coverage of her style – as a biracial campaigning feminist from America, she is helping to forge a new 21st-century identity for the monarchy."
In related news, Grant Harrold, a royal expert, recently named some of the royal rules that Markle has to follow now that she is married to her husband.
"It was kind of mentioned at the time, royal ladies should wear tights. That's absolutely spot-on. And you'll notice, in recent appearances of the Duchess, she wears tights," he told CNBC.
Markle is not also allowed to have personal social media accounts.
"She doesn't need her blogs or Twitter or any social media, because what she says and does can be presented through the organization that she's part of," Harrold said.
Taking selfies are also not allowed for members of the royal family.
© Copyright IBTimes 2023. All rights reserved.