Kate Middleton's Blue Ensemble Hint She's Carrying Baby Boy?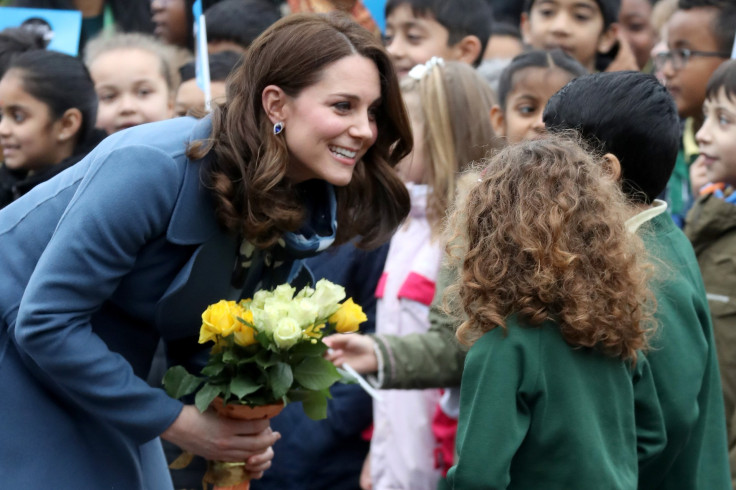 Kate Middleton opted to wear blue in her most recent outing and many are taking this as a hint that she is having a baby boy.
In September, the palace announced that Prince William and Middleton are expecting their third royal baby. The new addition to the Cambridges will arrive in April, but the gender of the baby remains unknown.
On Tuesday, Middleton was photographed wearing a blue ensemble from head-to-toe when she visited Roe Green Junior School in London. The Duchess of Cambridge opted for a blue Seraphine maternity dress, Sportmax coat, patterned scarf and shoes. Even her matching sapphire earrings and rings were colored blue, People reported.
Middleton's maternity dress featured an empire waistline and is accentuated by gold buttons. The dress only cost $99, E! News reported.
Due to the color of Middleton's dress, many are taking it as a hint that she is having a baby boy. However, it is also possible that the duchess means nothing with the shade of her ensemble because she has been seen wearing pink in her other royal engagements.
For instance, when Prince William and Middleton visited Coventry, the mom of two opted for a bright pink coat. During their visit, the Duchess of Cambridge noticed a pale boy and approached him. She handed him a brown paper in case he got sick.
The people in the Coventry were very pleased with the duke and duchess. In fact, Rashid Bhayat, CEO of Positive Youth Foundation wanted to work with them. Bhayat was all praises to the royal couple 's attitude and approach in conversing with the youth. He noticed that Prince William and Middleton were "exceptional at breaking down barriers in the young people."
"They were incredibly approachable and very well engaged – so much so I might even send them an application form for a job at the organization," Bhayat told People. "They were brilliant with the young people. They would be great to come and join us."
In related news, the bookies have already started their betting for the name of Prince William and Middleton's third baby. According to Jessica Bridge from Ladbrokes Betting Agency, the upcoming royal baby is unlikely to be named Princess Chardonnay or Prince Wayne. At the time, the leading name is Alice while Albert is the runner-up.
© Copyright IBTimes 2023. All rights reserved.