Katrina Bowden: '30 Rock' Star Gets Flirty for First Maxim Cover Shoot [PHOTOS, VIDEO]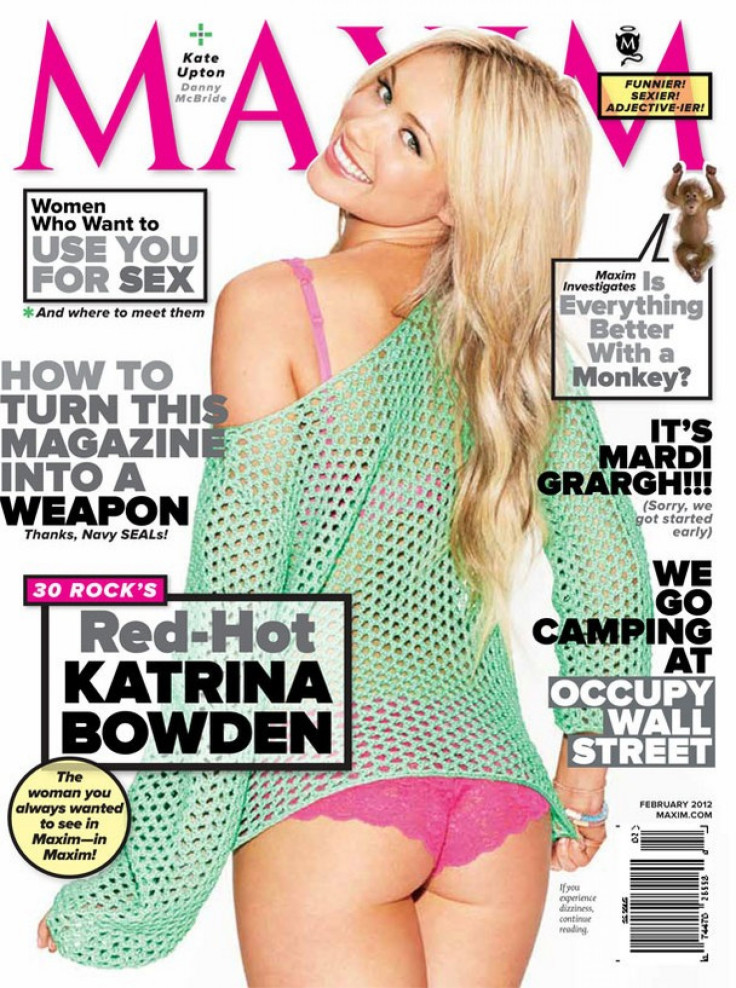 Katrina Bowden has got it all - a killer body, a mega-watt smile and a flourishing career. Now the beautiful 23-year-old can add Maxim cover girl to the list.
At her first ever Maxim cover shoot, the 30 Rock star got flirty for the camera decked out in neon underwear, tutus and sunglasses. The shoot today, the concept was all-American, sweet, fun, young, sexy, with pops of neon color, and sunglasses, and confetti. [It was] a really fun shoot, and I'm excited to see the photos, Bowden said during a behind-the-scenes interview.
Bowden, who is embodies the Americana look, hails from New Jersey and has been a star on the rise since she first scored the role of Cerie on NBC's hit show 30 Rock.
I grew up in New Jersey, not too far from where I'm living in New York now, said the blonde stunner. I started modeling when I was 14. I was always a little shy about it... I never really wanted to be the center of attention for that so I kind of shied away from talking about it.
She is certainly not shy anymore. The former Catholic school girl was voted Esquire's Sexiest Woman Alive in 2011. For the editorial spread, the blonde beauty stripped down to her panties.
Bowden's statuesque physique serves her well while playing Cerie, a wildly inappropriate intern who wears bootie shorts to work. But Bowden is more than just a pretty face (and killer body). She is completely hilarious, too.
It's been so amazing working with everybody on '30 Rock,' said Bowden, Especially [since], when I started at 17, I was so new to acting in general and especially comedy. So I learned from the best at a young age. They're really people I always looked up to and still do.
Katrina Bowden was just 16-years-old when she auditioned for the part on the NBC show. Now, she is a blossoming actress with three movies coming out in 2012 - Piranha 3DD, American Reunion and Nurse 3D.
The beauty also dished about her life off the set, saying that she loves cooking and baking. I think that the best meal to make for somebody would be roast chicken with sweet potatoes, she said. That's just, like, a heart-warming delicious meal... and definitely the way to a man's heart.
Katrina, we doubt you need to find a way.
Take a look at the photos from Katrina Bowden's Maxim cover shoot and her behind-the-scenes interview. Buy the February 2012 issue of Maxim magazine.
© Copyright IBTimes 2023. All rights reserved.