Kaviar Gauche Bridal Couture: Would You Wear a G-String Wedding Gown? [PHOTOS]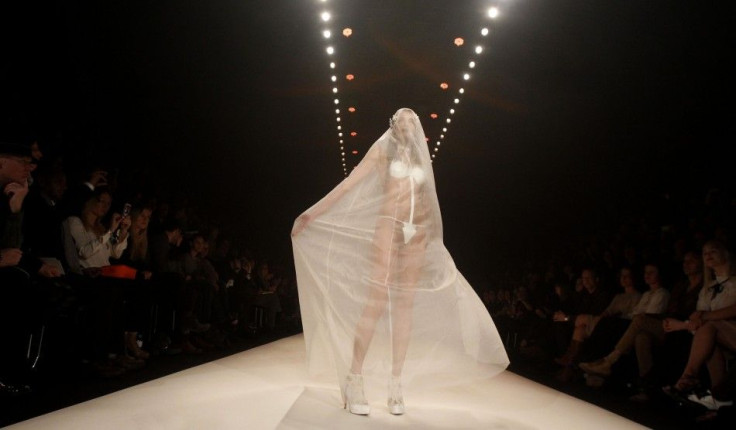 German fashion house Kaviar Gauche is known for its edgy bridal couture designs. For the 2009/2010 season, the label sent models down the runway practically naked. The only thing keeping the show from an X rating were strategically positioned accessories.
But, the display at Berlin Fashion Week surely takes the cake.
Walking down the runway during Berlin Fashion Week on Jan. 19 was a G-string wedding gown. That's right. Attire meant from the boudoir made its way in the bridal couture collection. The risqué garment looked more like a monokini (or skimpy lingerie) meant for the beach than an ensemble for a blushing bride.
The white frock was made of a G-string bottom and bandeau top, attached together from the neck to the pelvis with a white strip of fabric. Over the outfit, the model was covered with a floor-length veil and flashing blood-red lips.
The jaw-dropping G-string design was created by Alexandra Fischer-Röhler and Johanna Kühl, who have put on shocking shows since founding Kaviar Gauche in 2003.
Erring on neither the traditional nor the demure side, this G-string wedding gown is surely sensational.
Question is: would you dare to wear it on your wedding day (or night)?
© Copyright IBTimes 2023. All rights reserved.