Kazakhstan: 'Borat' Makes Benefit Glorious Nation With Tourism Boom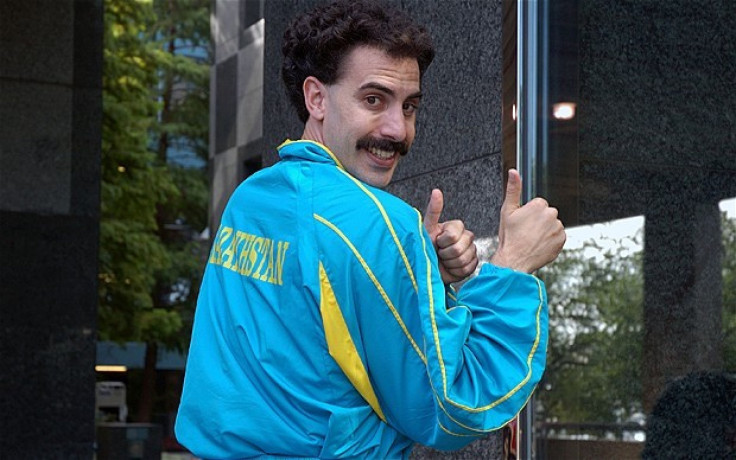 Kazakhstan's foreign minister thanked Borat, the lead character in Sacha Baron Cohen's hit film, for triggering a massive tourism boom in the Central Asian nation -- despite the fact that Borat is overtly sexist, homophobic, and anti-semitic.
Kazakhstan was, by all accounts, far from the minds of most international tourists before the feature-length film Borat: Cultural Learnings of America Make Benefit Glorious Nation of Kazakhstan hit theaters in 2006. But the popular comedy, which sparked a national identity debate and was banned in all but one Arab country, had the surprising effect of popularizing the nation.
In the mockumentary, fictitious Kazakh TV star Borat Sagdiyev travels around the United States duping ordinary Americans into taking part in his film.
Baron Cohen, a British comedian of Jewish origin, both wrote and starred in the film. His satirical depiction of Kazakhstan caused a furor at the time and officials denounced Borat as unreflective of a nation that is both progressive and modern. Distribution was banned in the former Soviet republic of 16 million and authorities blocked local access to Baron Cohen's website.
Borat has continued to trouble Kazakhstani officials. Last month, they launched a formal complaint with the Olympic Committee of Asia after a spoof Kazakh anthem from Borat was played at a sporting event in Kuwait.
On Monday, however, officials changed their tune, noting that the film that lampooned their nation wasn't such a disaster after all.
Kazakhstan's Foreign Minister Erzhan Kazykhanov acknowledged that with the release of the film, the number of visas issued by Kazakhstan has grown tenfold.
For us it is a great victory, he said, according to local news agencies. I'm grateful to Borat for his help to attract tourists to Kazakhstan.
Kazykhanov said one company even offers a special Borat tour to Kazakhstan.
Who is the real Borat from Kazakhstan? the tour company asks on its website. What is Borat Sagdiyev's country really like? There are different opinions. Join us and we will discover together.
The tour, which the website says is coming soon, goes by the name: Cultural Learnings of Kazakhstan for Make Benefit Glorious Nation of America & EU.
© Copyright IBTimes 2023. All rights reserved.