Keira Knightley Slams Kate Middleton For Post-Birth Appearance After Welcoming Prince Louis
Keira Knightley recently slammed Kate Middleton's post-birth appearance after the latter welcomed Prince Louis on April 23.
Seven hours after giving birth to her son, Middleton stepped out of St. Mary's Hospital's Lindo Wing to introduce Prince Louis to the world. Royal fans noticed how stunning the Duchess of Cambridge looked, and some of them commented that she doesn't look as though she just gave birth.
Middleton, who was also joined by Prince William at that time, wore a red Jenny Packham dress and nude heels during her first outing post-giving birth to her youngest child. Her hair was unkept untied, and she was all smiles as she greeted royal fans.
Knightley, who welcomed her daughter, Edie, just one day before Prince Louis, birth, criticized Middleton's appearance and said that it set an unrealistic expectation for other women, according to People.
In the essay she wrote called "The Weaker Sex," the "Love Actually" star called out to Middleton and other moms who just gave birth.
"We stand and watch the TV screen. [Kate] was out of hospital seven hours later with her face made up and high heels on. The face the world wants to see. Hide. Hide our pain, our bodies splitting, our breasts leaking, our hormones raging. Look beautiful. Look stylish, don't show your battleground, Kate. Seven hours after your fight with life and death, seven hours after your body breaks open, and bloody, screaming life comes out. Don't show. Don't tell. Stand there with your girl and be shot by a pack of male photographers," she wrote.
In her essay, which is dedicated to her daughter, Knightley went on to describe what it was like to give birth to her baby.
"My vagina split. You came out with your eyes open. Arm up in the air. Screaming. They put you on to me, covered in blood, vernix, your head misshapen from the birth canal. Pulsating, gasping, screaming. You latched on to my breast immediately, hungrily, I remember the pain. The mouth clenched tight around my nipple, light sucking on and sucking out. I remember this [expletive], the vomit, the blood, the stitches. I remember my battleground. Your battleground and life pulsating. Surviving. And I the weaker sex? You are?" she concluded.
Knightley's essay appears in the collection "Feminists Don't Wear Pink and Other Lies" curated by Scarlett Curtis.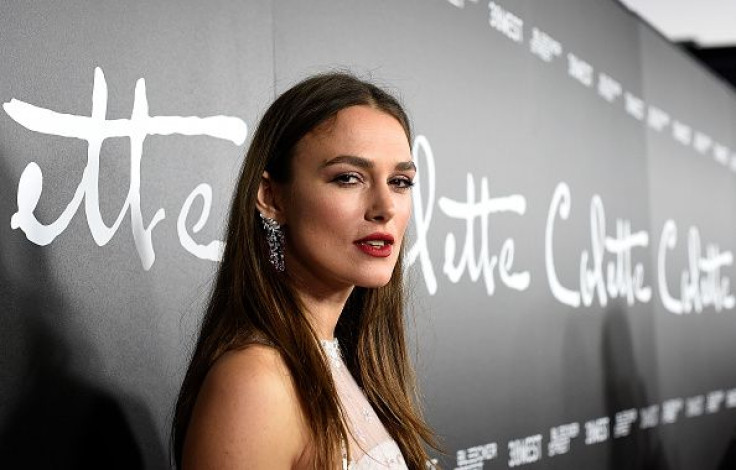 © Copyright IBTimes 2023. All rights reserved.
FOLLOW MORE IBT NEWS ON THE BELOW CHANNELS