Kellyanne Conway Update: Bowling Green Massacre Fund Website Sends Donations To ACLU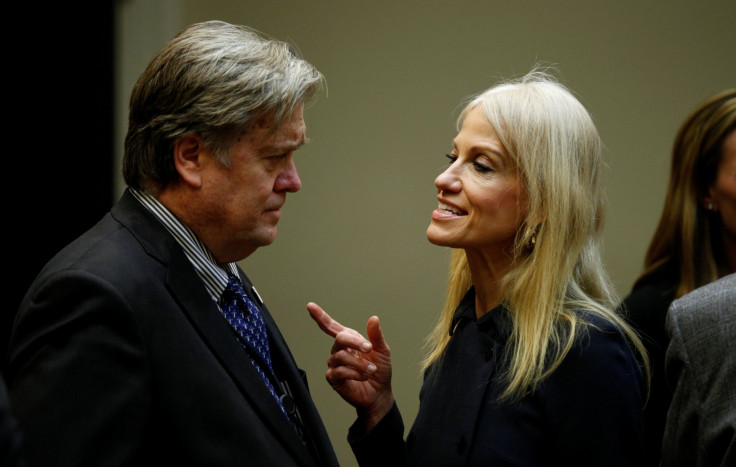 Kellyanne Conway cited a "massacre" that never happened while appearing on MSNBC Thursday night to defend President Donald Trump's travel ban. On Friday morning, a website commemorating the fictional massacre appeared, along with a request donations -- a request that took visitors directly to the ACLU's donation page.
Conway, a senior aide to Trump, went on "Hardball" and told Chris Matthews that two Iraqi refugees were the "masterminds behind the Bowling Green Massacre."
"Most people don't know that because it didn't get covered," Conway said. Of course, it didn't get covered because it didn't happen. There was no such thing as "the Bowling Green massacre." Conway admitted as much on Twitter Friday morning, clarifying that she meant to reference two al-Qaeda affiliated insurgents who had come to the U.S. as refugees and were arrested in Bowling Green, Kentucky, in 2011. The Justice Department said at the time that both were charged with crimes related to insurgent activities in Iraq, and neither were planning attacks on U.S. soil.
But after being roundly mocked for fabricating -- if accidentally -- a domestic terrorist attack, someone decided to set up a fake website to commemorate the attack. The website says it is for "The Bowling Green Massacre Victims Fund" and is a simple landing page with a black and white picture of a young man pensively gazing out a window.
"We all still carry the vivid memories of what horrors occurred at Bowling Green, but some still relive those moments everyday as they work to rebuild a community torn apart," the site says.
The site has a two different "donate" links for the "fund." But when users click on those links they are taken to the ACLU's donation page. The ACLU has vigorously attacked Trump's travel ban in court, filing a suits in several states contesting the ban immediately after it was issued. On Thursday, the ACLU announced it was part of class action lawsuit filed in federal court seeking to overturn the ban.
An ACLU spokesman told the International Business Times in an email that the organization "had no involvement" with the website.
© Copyright IBTimes 2023. All rights reserved.
FOLLOW MORE IBT NEWS ON THE BELOW CHANNELS