Kendall Jenner, Chris Brown Dating Rumors: Harry Styles Holding Back 'KUWTK' Star From Chris Brown Romance?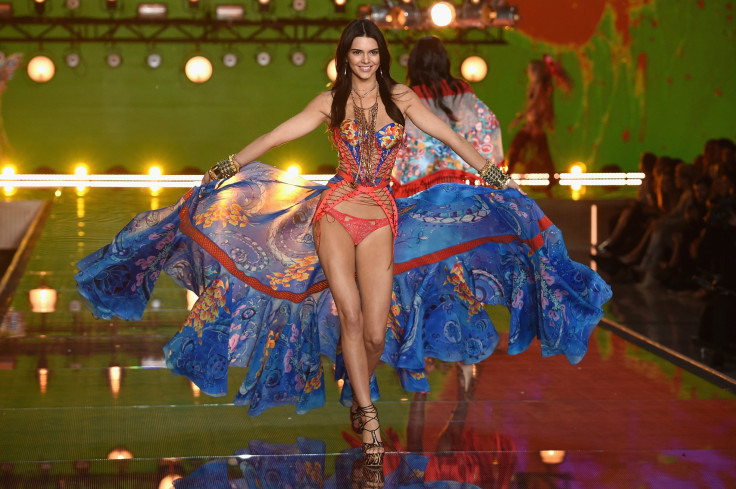 Kendall Jenner's past romance with Harry Styles is holding her back from taking things forward with Chris Brown, a source told Hollywood Life Wednesday. Jenner and Brown triggered dating rumors after they were spotted leaving post-midnight from a Paris hotel Tuesday.
According to the Hollywood Life source, Jenner's chances of romance with Brown are being affected because of her past relationship with Styles. Jenner, who had sparked romance rumors with Styles after they were photographed getting intimate on a yacht on New Year's Eve in the Caribbean island of St. Barts, called it quits after facing problems in their relationship.
"Kendall and Chris have been good friends for years and there's always been something there. They're very flirty, they even kissed once a couple of years ago, but that was it," the source reportedly said. "Kendall is very cautious though. The last thing she wants is another player messing with her head like Harry did, so Chris is going to have to work hard to get her. He's a player, but if he wants her, he's going to have to give that life up."
Previously Jenner's family also reportedly raised concerns over Styles' "player" image and feared that she might be heading toward heartbreak.
Brown and Jenner have been spending some quality time together with a romantic dinner and party session after the Paris Fashion Week.
Despite his attraction for Kendall, the "Loyal" singer is also fighting his feelings and is resisting himself from making anything official with the "Keeping Up With the Kardashians" star, another source told Hollywood Life.
"Breezy and Kendall and are mad tight and there is attraction on both on both sides of this friendship, especially from Chris," the source told Hollywood Life. "Look, Kendall's hot! She's a legit runaway model. The real deal, unlike Karrueche. Being a model alone makes Kendall a 10. She's super cool and dorky like Chris. They both have crazy fun when they're in each others company."
Despite the strong chemistry, Brown is taking a step back each time he plans to take a move into a relationship.
"She's perfect for him but Breezy hasn't made an official move on her," the source reportedly added. "He's really enjoying being her friend now. He doesn't want to blow up a good thing by committing to a monogamous sexual relationship with her. He's not ready and neither is she."
The source also reportedly said that Brown will take the permission of Kris Jenner before approaching the 20-year-old model.
Before being linked to Brown, reports surfaced that there is a connection between Jenner and footballer Cristiano Ronaldo, who reportedly invited her to attend his game. Meanwhile, things also heated up between Brown and his ex-girlfriend Karrueche Tran after the 26-year-old singer apologized to her in his "Sex You Back To Sleep" remix. However, Tran, who broke up with Brown after discovering he had fathered a child with model Nia Guzman, gave the singer cold shoulder after his apology.
© Copyright IBTimes 2023. All rights reserved.