Kentucky Lawyer Charged For Alleged Online Threats To State Governor Over Coronavirus Lockdowns
KEY POINTS
Louisville attorney James Troutman was charged for allegedly making threats against Kentucky Gov. Andy Beshear in Facebook posts that have since been deleted
Troutman's posts were in response to Beshear's statewide shutdown to try and curb the spread of coronavirus
Kentucky has been one of several states with protests at its Capitol by people demanding the state reopen
A Louisville lawyer was formally charged Thursdayfor allegedly making threats on social media against Kentucky Gov. Andy Beshear. The alleged threats echoed protesters across the U.S. demanding the country reopen despite the coronavirus pandemic.
James Gregory Troutman, 53, was arrested by state police at his home Tuesday. He was formally charged with misdemeanor terroristic threatening and was released of his own recognizance.
A court date has not yet been set.
Troutman's alleged threats were in a pair of Facebook posts on his personal account after Kentucky's lockdown went into effect on March 26. He said in the first post: "Maybe some should ask Beshear in a press conference on his thoughts on William Goebel. For those who don't know history, it's a good read."
William Goebel was elected the governor of Kentucky in a controversial 1899 gubernatorial election over Republican opponent William Taylor. Goebel was shot on Jan. 30, 1900, and sworn in the next day as governor before dying from his wounds four days later.
Troutman's next post was during an exchange with another Facebook user who asked if Beshear would be shooting plates at his next rally. Troutman responded by saying, "With any luck, the gov will be the one at whom the shooting will be directed."
Both posts, and Troutman's Facebook account, have since been deleted.
Troutman lawyer Steve Romines told Louisville NBC-affiliate WAVE that while his client's posts were "dumb," they were protected as free speech.
"The only thing more unhelpful than what Greg said on Facebook is KSP arresting him for it," Romines told WAVE. "If he had said the exact same thing except used Donald Trump instead of Andy Beshear, he wouldn't be charged. Trying to take what is free speech, and it is free speech, and turn it into a crime simply because you don't like it only makes the situation worse."
Beshear has been under fire since the statewide lockdown was issued as protesters flocked to the state's capitol of Frankfort demanding Kentucky reopen despite the pandemic.
As of Thursday, Kentucky had 3,192 confirmed cases and 171 deaths from coronavirus.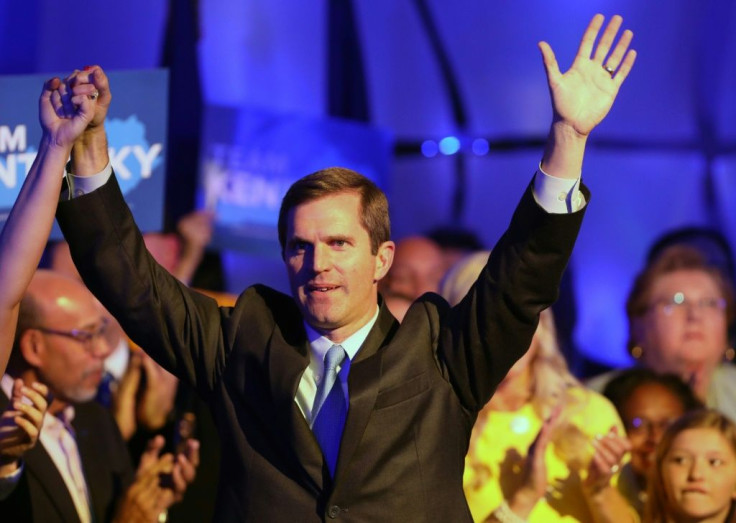 © Copyright IBTimes 2023. All rights reserved.