Kenya shilling falls for second day, stocks slip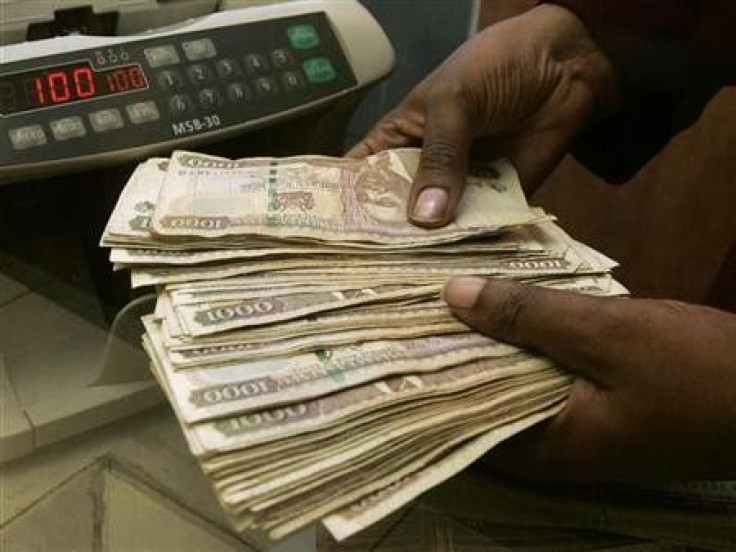 The Kenyan shilling reversed early gains to close weaker against the dollar for the second straight session on Tuesday, hurt by telecom sector demand for dollars, while stocks extended losses to a fifth day.
At the 1300 GMT market close, commercial banks quoted the shilling at 94.00/20 against the dollar, weakening from Monday's close of 93.60/80. It earlier touched an intra-day high of 93.30/50.
There is some renewed buying interest at below 94 levels, particularly from the telecom sector. These are a continuation of yesterday's orders, said Kennedy Butiko, deputy head of trading at Bank of Africa.
The shilling, now comfortably off its October 11 record low of 107, had firmed in early trade as banks sold dollars and importers kept away on expectation the shilling could firm further.
Traders said they broadly expected the shilling to resume its strengthening trend, with money market liquidity tight since the central bank raised its key lending rate sharply to 16.5 percent at the beginning of the month.
The bank is set to hold its next Monetary Policy Committee meeting on December 2.
We will be watching for any further support action from the central bank, said Duncan Kinuthia, head of trading at Commercial Bank of Africa.
Tight shilling liquidity pushed the interbank rate up to 30.8172 percent on Monday -- its highest level in at least four years -- from 30.6687 percent on Friday.
However, some analysts said the shilling might slide back towards 100 if Kenya did not unwind its expansionary fiscal programme and raise import cover to the required four months.
Kenya has been forced to turn to the International Monetary Fund for an additional $250 million to help tackle its widening balance of payments deficit.
While we note the shilling has appreciated in recent weeks, following the strong dose of monetary tightening in October, we still think there is a high risk of it weakening in the short term, said Yvonne Mhango, sub-Sahara Africa economist at Renaissance Capital.
Kenya's official usable foreign exchange reserves edged up to $3.72 billion last week, the equivalent of 3.41 months of import cover.
On the stock market, the benchmark NSE-20 Share Index fell 0.39 percent to 3,374.37 points as the liquidity crunch squeezed equity and bond trading.
The market started the week in a slump with decreased turnover in both equities and bonds as the liquidity tightening measures employed by CBK take effect, said Genghis Capital in a daily report.
Shares in National Bank of Kenya fell 5.88 percent to 24 shillings a day after it posted a 9 percent drop in its pretax profit for the first nine months of this year.
In fixed income, corporate and government bonds worth 2.21 billion shillings were traded, up from 1.28 billion shillings on Monday.
© Copyright Thomson Reuters 2023. All rights reserved.