Kenya University Attack: Al-Shabab Beheading Students At Garissa College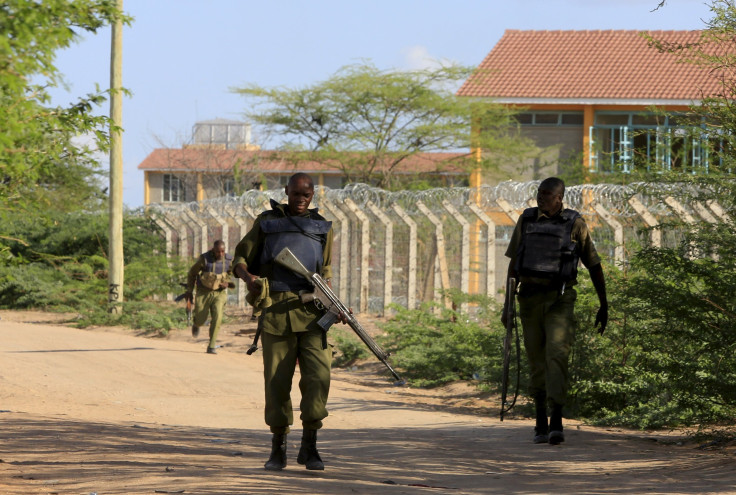 Update as of 12:10 p.m. EDT: At least 70 people have died from Thursday's attack at Garissa University College in Kenya, and nearly 80 people were injured, according to the Kenya National Disaster Operation Centre. A spokesman for Kenya's Ministry of Interior, who said that around 500 out of 815 students have been accounted for, has threatened "legal action" against those who publish "gory photos" associated with the attack.
Original story: The al-Shabab militants who staged a deadly attack on a Kenya university Thursday have started beheading students there held hostage, according to multiple reports. As of 4:18 p.m. local time, there had been multiple beheadings at Garissa University College, witnesses said. Kenya's interior minister announced that two members of the group of al-Shabab attackers have been killed, according to the Associated Press.
"I was in a group that was saved by the KDF just after one o'clock," said student Omar Ibrahim using the abbreviation for Kenya Defence Forces, a statewide law enforcement group, reported News 24. "We saw many, many bodies, some did not have heads. I don't know why someone would do such a thing." At least one soldier on the ground has reportedly also confirmed the beheadings.
After initial reports had the death toll at around 20, the number is believed to have surged to more than 100, including students who were asleep in dormitories during the attack. Nearly 300 of about 700 students on campus had been accounted for thus far. The situation there is ongoing with hostages having been taken, as well.
Kenya has offered a reward of $220,000 for information leading to the capture of Mohamed Mohamud, a member of the al-Shabab group that has taken responsibility for Thursday's siege, CNN reported. Mohamud, who is also known as Dulyadin and has an alias of Gamadhere, is believed to be the mastermind behind the attack, the Associated Pres reported.
The Somalia-based terror group, which has been in allegiance with the al Qaeda terrorist organization since 2012, was specifically targeting Christians at the school.
The U.S. Ambassador to Kenya, Robert F. Godec, called the events a "cowardly attack" and extended "deepest condolences" to those affected. "The attack once again reinforces the need for all countries and communities to unite in the effort to combat violent extremism. The United States remains a committed friend of Kenya. We stand shoulder to shoulder with the government and people of Kenya in the effort to end the scourge of terrorism."
© Copyright IBTimes 2023. All rights reserved.