Kevin Durant Under Armour $285 Million Deal: Nike Has Right To Match, But Is The Deal Worth It?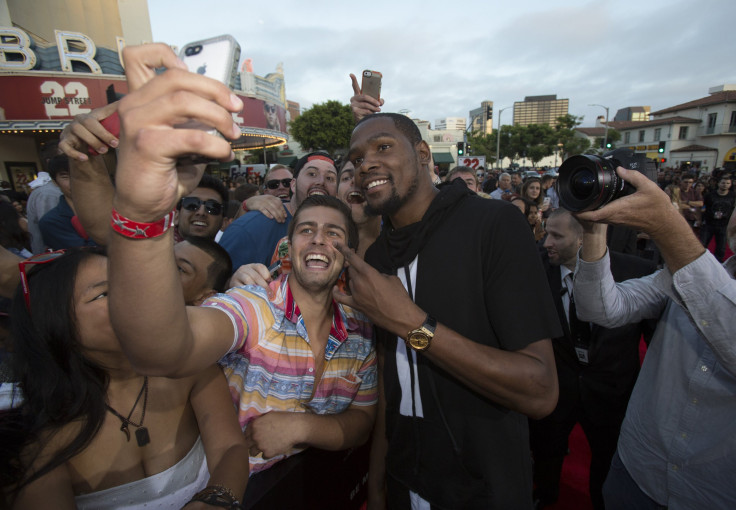 Under Amour has dared to challenge Nike for a share of the $4.5 billion basketball shoe business. The Maryland-based company reportedly offered Oklahoma City Thunder forward and reigning NBA MVP Kevin Durant a new endorsement contract worth as much as $265 million or $285 million, ESPN's Darren Rovell reported Thursday.
The deal includes stock and a community center to be built in Durant's mother's name. Nike does have the right to match, and if it does, Durant legally can't switch to the rising Under Armour. Rovell called the potential deal "the most intriguing" one he's ever seen, with Under Armour looking to gain its first significant foothold in a market Nike has long dominated. Forbes reports, Nike and its Jordan Brand subsidiary held a 92 percent market share last year, compared to 0.7 percent for Under Armour.
Durant, represented by rapper Jay Z's Roc Nation Sports, has been a client of Nike's since he entered the league in 2007. Yet, since he hired Roc Nation last year, he's already spurned beverage titans Gatorade for Talking Rain. Under Amour hopes bucking the norm turns into a pattern for Durant and that it can continue to grow in a global sports apparel market expected to reach $178 billion in revenue by 2019, Forbes reported in March.
Under Armour has essentially gone all in on Durant, much the same way Adidas did when it signed Chicago Bulls guard Derrick Rose to a 13-year, $185 million deal in 2012. The gamble thus far hasn't helped Adidas's market share. Last year it had 5.5 percent, up only half a percent from 2012. Rose has played a total of 10 NBA games the last two years due to serious injuries in both of his knees, and sales of his shoes were flat last year, at $40 million, when compared to 2012 figures.
Barring a similar string of crippling injuries, Durant is on pace for a Hall of Fame career and could be the NBA's top endorser in the future. The Thunder are perennial contenders in the Western Conference, and last year Nike totaled $175 million off products tied to Durant and his signature trademark "KD." Durant could earn as much as $28.5 million per year from Under Armour, but he would still be second to Cleveland Cavaliers star LeBron James, who's expected to rake in roughly $30 million from Nike this year. Though the NBA's two top players can't come close to legend Michael Jordan and the $100 million in royalties he earned from Nike in 2013.
Founded in 1996, Under Armour has gradually built up its brand and market share by designing and selling sports apparel, and then shifting to running and football shoe wear. Basketball would seem like the next logical step, but Nike's stranglehold on the sport and its superstars has limited new challengers. Under Armour started to lure top NBA players last year when it signed Golden State guard Stephen Curry, but the possible addition of Durant could be a tipping point.
"A bold move like KD, and overpaying him, I think is a nice strategic play for them," said Matt Dzamba, director of Sports Marketing for Zambezi. "From a global perspective, any article you ever read about Under Armour it talks about their global growth. When you look at the global landscape there's a saying that 'if you want to go global, you go to China.' The NBA guys there are superstars to the nth degree."
And though losing a player of Durant's caliber would hurt most companies, Nike has much more staying power and depth in its current roster of clients.
"This deal is far more important to Under Armour than Nike," said Marc Edelman, sports law professor at the Zicklin School of Business at Baruch College. "Nike already has a huge portfolio of elite athlete athletic endorsers, across all sports; Durant would be just one more.
"By contrast, for Under Armour this poses a unique opportunity to secure a premier athlete sponsorship. With the stock option component of this sponsorship, the deal can be compared with some of the deals Oiselle has made with elite women's runners, albeit likely on a far larger monetary scale
Durant has worked hard the last seven years, molding Oklahoma City into one of the top teams in the West. He's notched four scoring titles, been named to the All-Star team five straight times and took the franchise to its first NBA Finals since relocating from Seattle. But he will be an unrestricted free agent following the 2015-16 season, a small window of two years that Under Armour likely hasn't overlooked.
James dominated the headlines last month after he announced his return to his home state of Ohio, and Durant could follow suit. He grew up in Seat Pleasant, Maryland, and the nearby Washington Wizards have been tabbed as early front-runners should Durant decide to bolt Oklahoma City. TV By The Numbers ranks Oklahoma City as the 45th largest television market in the country, drastically lower than No. 9 Washington. Durant could earn far more in local endorsements, on top of his salary and shoe deals, while playing in front of his hometown
"If the Wizards are a young, growing team, which they are, and they make sense from a basketball perspective, I think it can't hurt him considering going home," Dzamba said. "The irony of the situation is the two most likely suitors for him in two years will probably be a New York team, either Brooklyn or the Knicks, or the Lakers. Then you get into the argument it is a nice story, and it's nice to have our big basketball guy playing in Under Armour's market. But from a business perspective I would almost rather he play on the Lakers, which has great global visibility, a blue- chip brand, tradition and the built-in Chinese audience to kind of make him more of a global play."
© Copyright IBTimes 2023. All rights reserved.