Khloe Kardashian Hides Possible Baby Bump In New Instagram Photos?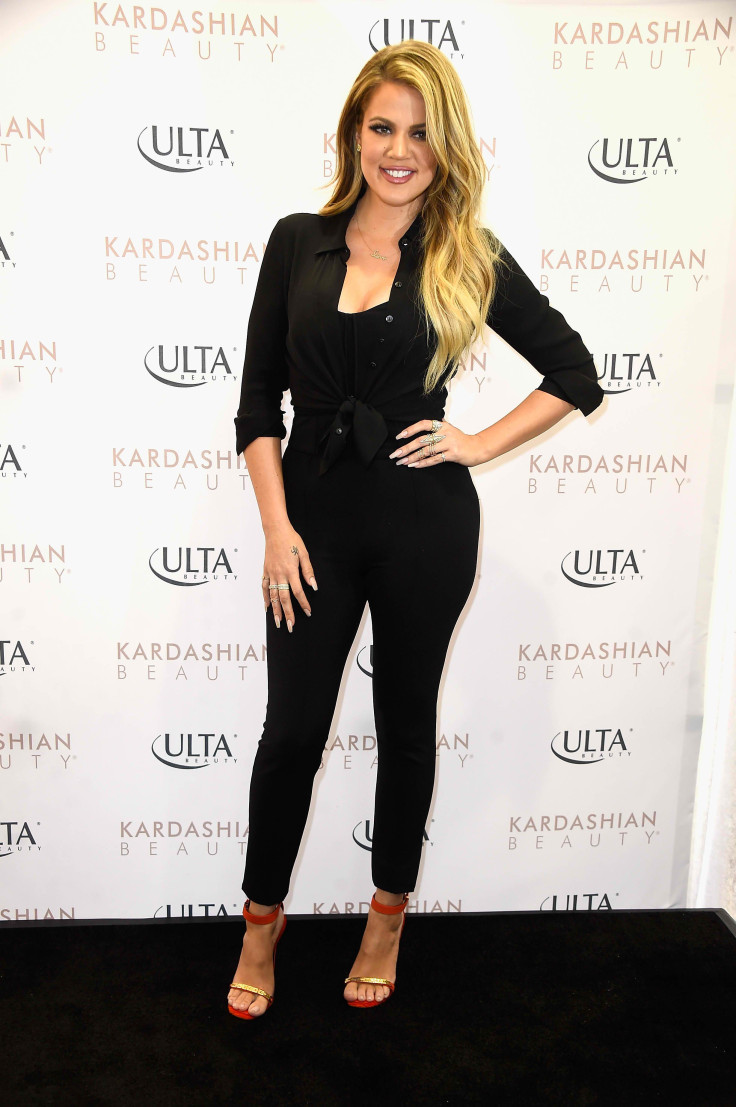 Did Khloe Kardashian just hide a possible baby bump on Instagram?
On Thursday, the "Keeping Up with the Kardashians" star shared three new photos of herself on Instagram. In the snaps, Khloe is wearing a sky blue sports bra, but while she usually shows off her toned tummy, she noticeably kept her midsection out of the picture this time.
In one photo, Kardashian showed off her new gleaming grill, which she called "Mean Mug." For the second photo, she wrote: "I choose to start each day with a grateful heart and a happy state of mind." In the third post, Kardashian is pointing to her pouty lips and wrote: "Hummmmmm... ice cream or fro yo? Yummm."
A number of her followers commented that Kardashian is looking "gorgeous" and "pretty" in her new posts. But others wondered why she did not show her tummy and commented on some of the recent changes in her body.
"Where is this baby bump miss thang," one user commented.
"If you look at how the bottom of her bra stretches out a little, you can totally tell she's pregnant. I'm so excitdd," another Instagram user wrote.
"I can't take it anymore!!!! Just let us see the bump!! Pregnancy is such a blessing ,no need to hide it! The suspense is killing me. Tired of The baggy sweaters and crossed arms... #fanseverywhere," allidarling commented.
Just like her sister Kylie Jenner, Kardashian has not yet addressed her pregnancy rumors. On Tuesday, the "Revenge Body" star was spotted at LAX airport after spending Thanksgiving in Cleveland, Ohio with boyfriend Tristan Thompson. During the sighting, Kardashian sported an oversized black, hooded sweatshirt, which was big enough to hide a possible baby bump. She also covered her midsection with her bag.
A day prior to the sighting, Kardashian confused her fans when she posted a photo of herself in a sports bra, with her tummy noticeably flat and toned. However, her followers speculated that the shot was a throwback photo and that Khloe only used it to promote her blog, Khloe With A K.
The Kardashian-Jenner clan is reportedly expecting three more additions to their growing family. Kim Kardashian has already announced that she is expecting her third baby via surrogate. Meanwhile, fans are waiting for Khloe and Kylie's confirmation.
When do you think will Khloe and Kylie address their pregnancy rumors? Drop a comment below.
© Copyright IBTimes 2023. All rights reserved.