Kim Kardashian Announces KKW Beauty Line: How And When To Get It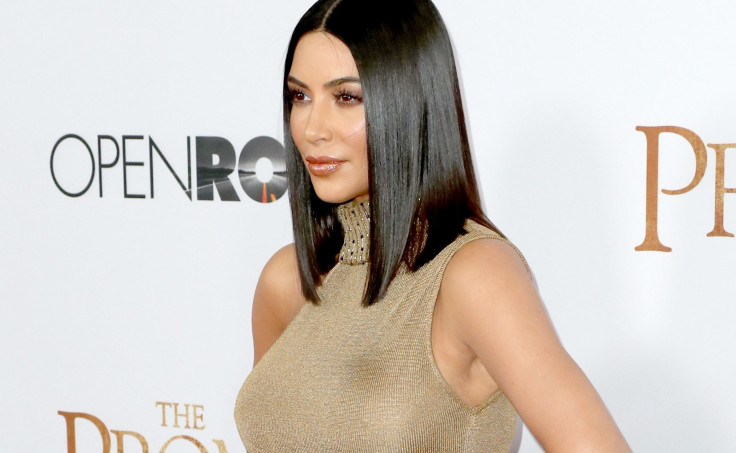 Kim Kardashian revealed her forthcoming beauty line KKW Beauty across her social media platforms Tuesday. In a series of tweets, Snapchat videos and Instagrams, the 36-year-old "Keeping Up with the Kardashians" star announced that she — like her younger sister Kylie Jenner — would be getting into the cosmetics business. According to the posts, the line will officially launch June 21 on the brand's newly minted website.
True to form, the reality star broke the news on Instagram in a series of cryptic posts. In a tryptic that revealed the brand's launch date, Kardashian tagged the handle for the official KKW Beauty Instagram account. A redirection to the page revealed a simple post that read "crème contour and highlighter kit." The note, she'd reveal later Tuesday, pointed to her brand's first product launch. The account had already garnered more than 72,000 followers by Wednesday, when she revealed the product's millennial pink aesthetic in a separate post.
During an interview backstage at the Forbes Women's Summit, which took place Tuesday at Spring Studios in New York, Kardashian dished on her newest endeavor — just one of a growing empire apps, merchandise and beauty products. Like Kardashian's sister, 19-year-old Kylie Jenner, the star revealed that her forthcoming cosmetics brand would be an e-commerce business.
Read: KKW X KYLIE Crème Liquid Lipstick: When And How To Get The Kim Kardashian Collaboration
"We're launching with a contour kit, my favorite," she said. "I think with everything I've done — I change my looks up all the time — but the one thing that's consistent is contour. So we're a cream contour with the launch with a dual-ended brush to blend it. There's a highlighter kit with it — it all comes together."
KKW talking about #KKWbeauty in her @Forbes interview today. #RedefinePower pic.twitter.com/BZH4vrUZ6S

— Kim's boo thang _ (@KKWstan) June 13, 2017
When asked whether she would be tackling other products down the line in the vein of her younger sister — whose own cosmetics company releases everything from lip kits to eyeshadows — Kardashian said "absolutely."
"Everything has been my favorite products that I use all the time. Hopefully every month we'll have a drop of another product. I'm focusing on skin and the contouring and concealer, and all my favorite things will be coming out soon," she said.
Read: Kim Kardashian Says She Might Not Return To Paris For '10 Years' After Robbery
Kardashian went on to reveal that her products would be made locally in her home state of California. Like Jenner, she'll be partnering with Seed Beauty, which manufactures Kylie Cosmetics.
Kardashian has come a long way from where she was at in October, when the reality star was robbed at gunpoint in her Paris apartment during the city's Fashion Week. While speaking with Steve Forbes during the summit, Kardashian said she "took that experience and turned it into a growth process for me."
© Copyright IBTimes 2023. All rights reserved.