Kind Bars No Healthier Than Candy Bars; FDA Says Stop Making 'Healthy' Claim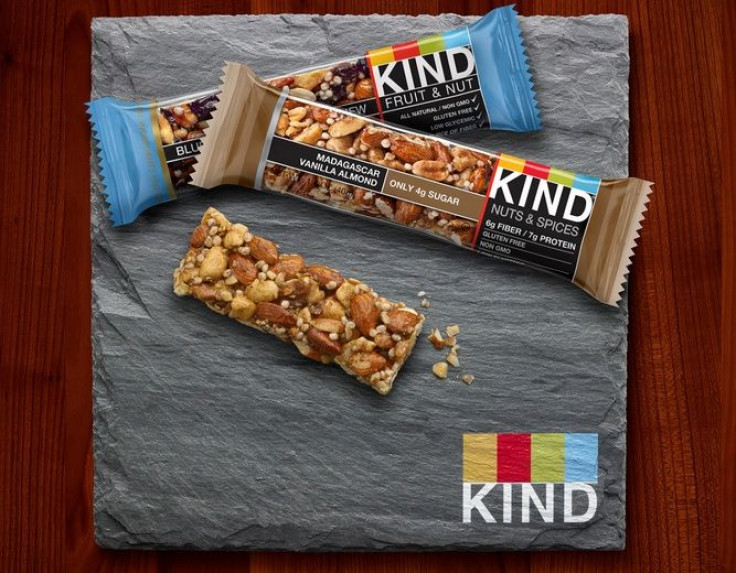 When perusing the snack aisles for a quick pick-me-up, many people grab snack bars labeled "healthy" over the candy bars they may truly desire. But some nutritional experts say there might not be a big difference between the two.
On March 17, the U.S. Food and Drug Administration sent a warning letter to the folks at Kind Bar telling them to kindly cut the health claims it was making, saying that at least four of the Kind bars weren't meeting branded promises. Although reps for Kind wrote a blog post rebuttal, Tufts University nutrition researcher Dr. Susan Roberts, author of "The 'I' Diet: Use Your Instincts to Lose Weight – And Keep It Off – Without Feeling Hungry," agrees with the FDA.
"Are they health food?" Dr. Roberts asks. "No, they are not, in my opinion. They are low in fiber and very high in calories," she told International Business Times. "Having said that, I don't think they are worse than a ton of other bars out there. Unfortunately, the world is full of unhealthy bars masquerading as health food."
In the FDA letter to Kind's CEO, Daniel Lubetsky, the FDA provided its conclusion to a review of the brand's website, to which it directs to consumers: "Tasty" it may be -- "healthy" it is not.
"The Food and Drug Administration (FDA) reviewed the labels for your Kind Fruit & Nut Almond & Apricot, Kind Fruit & Nut Almond & Coconut, Kind Plus Peanut Butter Dark Chocolate + Protein, and Kind Plus Dark Chocolate Cherry Cashew + Antioxidants products in August, 2014," began the letter. Among the claims the FDA found that were not matched by an examination of the labels: claims that the bars had "no trans fats," were a "good source of fiber," were "anti-oxidant rich," were "very low sodium" or "low sodium."
For example, the FDA stipulates that a brand can only call its food "healthy" if there's less than 1 gram of saturated fat per serving. Almond & Coconut has 5 grams of saturated fat per bar. Peanut Butter Dark Chocolate + Protein is described as "good source of fiber" with "no trans fats," and the FDA found that it is neither a good source of fiber, based on its requirements, nor is it free of trans fats. Kind was told that it needed to comply with FDA labeling directions and take "prompt action" to correct the violations. "Failure to promptly correct the violations may result in regulatory action without further notice, including seizure and/or injunction."
In a response on the Kind blog, the company admitted that its labels didn't meet the FDA's standards and would make the recommended changes, but it also argued that its brand had lots of nuts, "which contain nutritious fats that exceed the amount allowed under the FDA's standard," arguing: "This is similar to other foods that do not meet the standard for use of the term healthy, but are generally considered to be good for you, like avocados, salmon and eggs."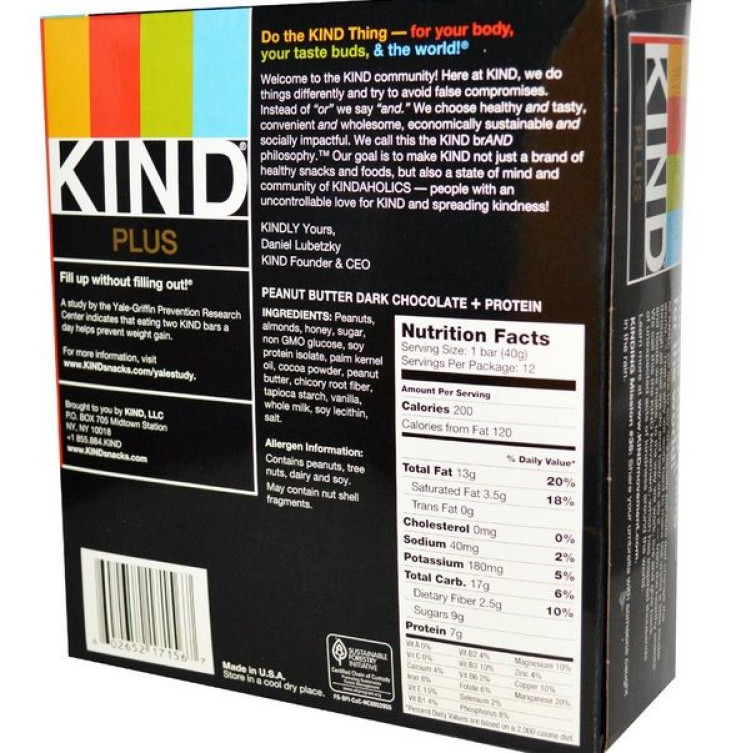 When asked if a Kind bar was any different from, say, Reese's Peanut Butter Cups, Dr. Roberts responded, "OK, it has almonds. But Reese's Peanut Butter Cups have peanuts. I wouldn't really distinguish them."
"It's impossible for the FDA to truly create regulations that these brands can't get around," Roberts said, although she noted that perhaps the FDA could do a better job. She argued that many of these portable so-called health foods "game the system" by adding sugar as the second, third or fourth ingredient in their labeling, instead of first. "All of us are gullible, and these brands know that and exploit it."
Kind Bar is just the latest brand getting called out for deceptive health claims. In 2009, the Washington-based Center for Science in the Public Interest (CSPI) served the Coca-Cola Company notice of a class-action lawsuit over what it called deceptive and unsubstantiated claims on its VitaminWater line, which it touted as a healthy alternative to sugary sodas by using health "buzz words." It turns out each VitaminWater bottle has 33 grams of sugar -- around 8 teaspoons of sugar. The case was settled in October 2014, and although it didn't provide Class Members with monetary settlement, it meant that Coco-Cola and Energy Brand products had to take the misleading health claims off the VitaminWater labels and state the number of calories in the drinks.
Coca-Cola's initial 2010 statement defending the claims were less than persuasive and even invited a Stephen Colbert skewering: "[N]o reasonable consumer could reasonably be misled into thinking VitaminWater was a healthy beverage."
FOR FREE to continue reading
✔️ Unlock the full content of International Business Times UK for free
offer available for a limited time only
✔️ Easily manage your Newsletters subscriptions and save your favourite articles
✔️ No payment method required
Already have an account?
Log in
© Copyright IBTimes 2023. All rights reserved.