Kindle Fire or $199 BlackBerry Playbook?
RIM's PlayBook Tablet Price Slashed by $300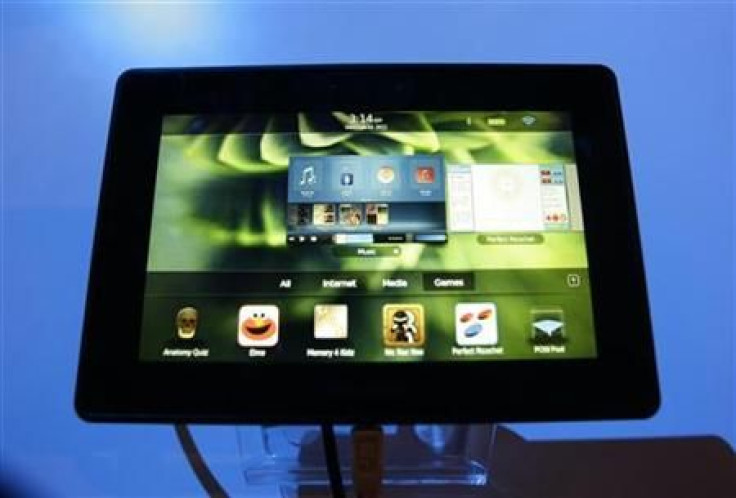 Research in Motion, the company that makes BlackBerry smartphones, plans to slash $300 off the price of its tablet computer, the BlackBerry PlayBook. $200 seems to be the magic number because that's how much Amazon is selling its already popular Kindle Fire for. Tech blog Apple Insider reported the RIM price drop in a blog post, and it spark yet another tablet war this holiday season.
No tablet, until the Kindle Fire, has come close to being popular at all really, except for the Apple iPad. The problem for all the other tablet makers, RIM, Hewlett Packard, HTC, and even Samsung has been the iPad's popularity despite its $500 price tag. Many other tablets are in that price range, but haven't been able to generate any traction against Apple. Only when HP dropped the price of their TouchPad to $100 did they start flying off the shelf, and that may have partially inspired RIM.
At $200, PlayBook might get some run off from the Kindle Fire because it's an even fuller functioning device than Amazon's. It doesn't run the Android system, however, but the Kindle Fire only runs a modified version of Google's OS. PlayBook runs the QNX operating system, a business oriented system that does have its own apps, just not nearly the selection you'd find in the Android Market. Kindle Fire also has its own app store, the Amazon Appstore.
Both devices are seven inch tablets, but the Kindle Fire doesn't have a camera, where the PlayBook has front and rear-facing shooters. They weigh nearly the same (around 410 grams) and are nearly the same thickness (around 10mm). So if you don't mind using a non Android based system on a full featured tablet, the newly price slashed PlayBook could be a good, um, play. If you are looking for a little bit of the Android experience and want access to the huge amount of Amazon content on offer, then Kindle Fire is the choice. Tell us in the comments if you think any other tablets will drop their prices in the coming weeks.
MUST READ: Kindle Touch vs Nook Simple Touch: E-Readers Go Eye to Eye
MUST READ: Kindle Fire vs Sony Tablet S: Tablet Comparison
MUST READ: Droid Razr vs HTC Amaze: Features Compared
© Copyright IBTimes 2022. All rights reserved.
FOLLOW MORE IBT NEWS ON THE BELOW CHANNELS