Kindle Phone Coming Soon? Amazon Ready To Enter The Smartphone Jungle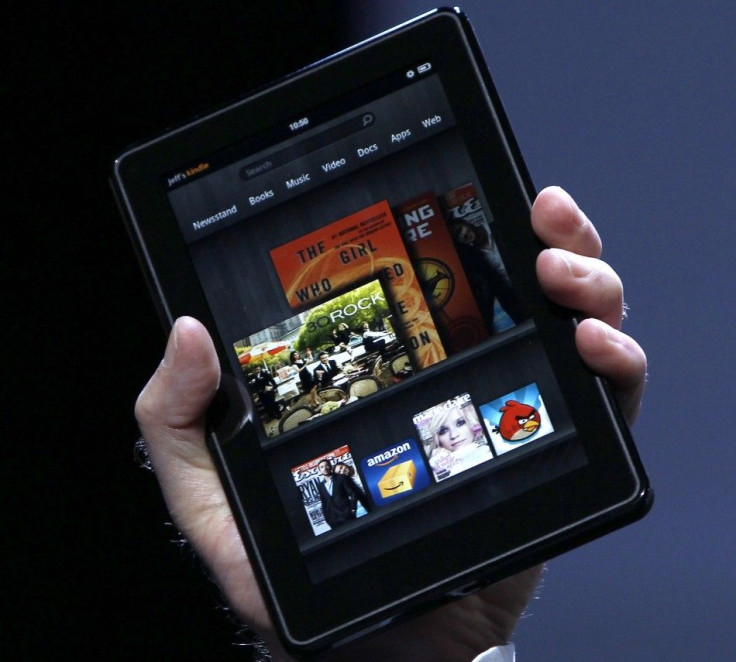 Amazon got into the hardware game in 2007 with its popular e-book reader, the Kindle. Five years, three Kindle generations and a tablet later, the world's largest online retailer is reportedly building its first-ever smartphone to compete with Apple's iPhone and Google's Android platform.
According to Bloomberg, two inside sources with knowledge of the matter said Foxconn, home to some of the largest and most controversial manufacturing plants in Greater China, has been working with Amazon to build the smartphone. Foxconn and Amazon already work together to manufacture the Kindle products, so this new product will simply be an expansion of their business.
The sources, who asked to remain anonymous because of the private nature of the plans, said Amazon's next step is to acquire a number of wireless technology patents to defend its product against infringement allegations, which are highly common among smartphone makers like Apple, Samsung, HTC and Google. The sources did not mention what operating system Amazon planned to build its new smartphone on, but one would presume Amazon would adopt the same strategy it took with the Kindle Fire and simply take an open source version of Google's Android OS and fit it for Amazon.
When asked about plans to build a smartphone, an Amazon rep declined to comment.
Laying The Groundwork For A Smartphone
We saw it coming in October: Little by little, Amazon CEO Jeff Bezos has been laying the groundwork for Amazon to become a juggernaut in the consumer media industry. In September, Bezos announced two new Kindle e-readers, the Kindle Touch and the Kindle Touch 3G, and its first-ever tablet, the Kindle Fire. The products literally gave Apple a run for its money, given that Amazon's e-readers and tablet offering were substantially cheaper than Apple's. All Amazon devices cost less than $200, and the Kindle Fire's $199 price tag was $300 cheaper than the cheapest Apple iPad.
Amazon has also been building up its video streaming service Amazon Prime, a direct competitor to Netflix, which announced it had lost 800,000 subscribers in its own third quarter earnings. In the September quarter, Amazon signed agreements with Twentieth Century Fox and PBS, allowing Amazon Prime members to instantly stream titles from those distributors. The Amazon Prime library, according to the company, now has more than 12,000 movies and TV shows from partners like CBS, Fox and Sony.
But the real reason Amazon feels confident enough to release a smartphone is because its back-end platform is finally ready. On the Kindle Fire, Amazon introduced several touch capabilities and a dynamic new Web browser built specifically for the tablet called Amazon Silk. Silk is the first browser to be accelerated and optimized through the cloud. Several features set it apart from mainstay browsers like Chrome, Firefox and Safari, including quick and dynamic Web page loading, better and smarter content delivery with less waiting time, and since it's built in the cloud, it has a virtually limitless cache and it takes up very little storage space on any device.
Now that the Kindle Fire has been on shelves for nearly 10 months, Amazon will reportedly release the tablet's sequel, presumably dubbed Kindle Fire 2, sometime between July 31 and Aug. 7, according to The China Times. Amazon will need to improve the many issues with the Kindle Fire to catch up with the iPad, and keep new competitors at bay, including Microsoft's new Surface tablet and Google's recently-unveiled Nexus 7 tablet.
Thanks to the Kindle Fire, Amazon already has a great deal of the features it needs for its smartphone. An Amazon smartphone would presumably connect to its own store and Amazon Prime, so users can purchase and rent movies, TV shows, albums and also other consumer goods from Amazon directly over their smartphone (Amazon already has deals with the Big 4 record labels and several movie studios). With Amazon's Cloud Drive service, users will be able to keep 5 GB of free storage or purchase more to store and stream unlimited music and media.
Amazon has a few major needs to address for its smartphone. It needs a good camera (which has never been featured on a Kindle e-reader or tablet), it needs deals with all of the major wireless providers (AT&T, Sprint, T-Mobile), and it needs those wireless patents to protect itself in court from Apple's sure-to-be IP onslaught. But Amazon definitely has the people, the technology, the smarts and the leadership to pull off a major smartphone that can compete with the big boys.
© Copyright IBTimes 2023. All rights reserved.