King Digital IPO 'Crushed' In First Day Of Trading; Can It Avoid The Fate Of Zynga?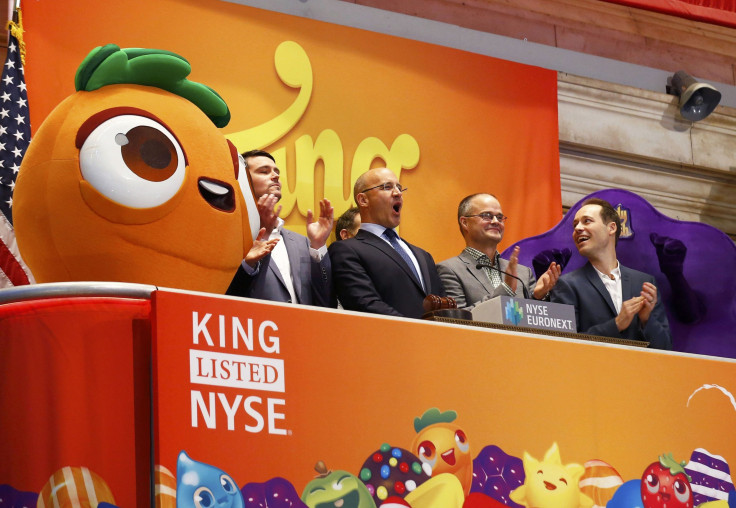 Dublin-based King Digital Entertainment PLC (NYSE:KING), the developer behind the hit mobile game "Candy Crush Saga," raised $500 million in its initial public offering at $22.50 per share on Tuesday, valuing King at $7.09 billion.
King began trading on Wednesday, March 26, at the New York Stock Exchange under the symbol "KING," according to its Securities and Exchange Commission filing. But soon after its debut, shares dropped from the opening of price of $22.50 to a low of $19.08. As of 12:36 p.m. EDT Wednesday, shares for King were hovering around $20.15.
Analysts and investors have been particularly skeptical about whether or not King will be able to maintain its growth and profitability.
"Companies like King are reliant on hits," said Mark Little, an analyst at the technology consultant Ovum in London, to the New York Times. "It's an open question whether they can sustain their success."
King voiced these concerns for its future growth in its SEC filing back in February, noting that its small portfolio of intellectual property offerings generates the bulk of its revenue. However, King is looking to expand its portfolio to make it less reliant on the continuing success of "Candy Crush Saga," which accounted for 78 percent of King's revenue in Q4 2013.
The hit "freemium" mobile game developed by King currently attracts 97 million active daily users. However, King's other intellectual property assets each fall below 20 million active users daily.
Avoiding the Fate of Zynga
Whether or not King will be able to avoid the fate of companies such as Zynga Inc. (NASDAQ:ZNGA) is yet to be seen, especially with the growing competition from an increasing number of mobile game developers looking to profit off of the free-to-play model, which relies on ads and in-app purchases to drive revenue.
King often has been compared to Zynga, the social game developer behind "Farmville," due to its similar reliance on a small portfolio of games to bring in the bulk of its revenue. Unlike King, Zynga launched its IPO in 2011 with a larger amount of shares at a much lower share price of $10, raising $1 billion in the process. Despite reaching a high price of $14.50 per share in March 2012, Zynga's price sunk significantly after disappointing Q2 2012 results, with prices falling as low as $2.13 per share in October 2012. As of 12:41 p.m. EDT, Zynga was currently trading at $4.68 per share, less than half of its original IPO price.
Is the Free-To-Play Model Viable in the Long Run?
King's free-to-play model has proven successful so far. However, in recent months there has also been some pushback from the gaming community against the business model, which some have dubbed "pay-to-win" or "freemium."
While the free-to-play game development and business model allows the lowest barrier to entry for potential players, its drawback is many games designed under this model rely on increased wait times or difficulty as players progress in order to encourage microtransaction purchases of "boosts" to advance to the next level. Electronic Arts (NASDAQ:EA) earned widespread criticism for such heavy-handed game design practices, particularly with its "Dungeon Keeper" mobile reboot, which relied heavily on the use of "gems" to speed up the most basic actions.
On the other end of the spectrum, other developers have taken note of consumer concerns. During a panel at the Game Developers Conference, Sony Online Entertainment's senior vice president of global marketing and sales, Lauren Naviaux, said, "It's frustrating when you hear the stigma attached to free-to-play because I think it can be done very right," according to a report by Polygon.
"We look at virtual items as what enhances the game's experience, what's going to add tangible value instead of friction points," Naviaux added.
Trademark Woes
In addition to its profit concerns, King is also facing potential trademark woes in the European Union, where Zeptolab is fighting against King's EU trademark on the word "candy."
Despite King's assertion of control of its "candy" trademark in the EU, it abandoned its attempt to trademark the term in the United States in February after widespread criticism from the gaming community and protests against King's aggressive moves to control the use of words such as "candy" and "saga" in game titles.
© Copyright IBTimes 2023. All rights reserved.