'Dungeon Keeper' Review Controversy: EA Responds To Accusation Of Rating Manipulation In Google Play Store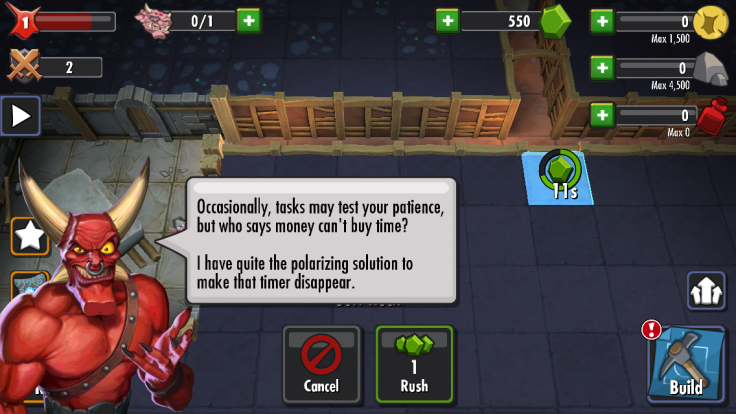 While the attention of both casual and enthusiast mobile gamers was briefly grabbed by the notoriously difficult "Flappy Bird" for Apple iOS and Google Android, Mythic Entertainment and its parent Electronic Arts Inc. (NASDAQ:EA), joined the fray with a free-to-play, or "freemium," reincarnation of "Dungeon Keeper," earning a much different reception in the process.
Fans of the beloved 1997 strategy franchise initially welcomed a reintroduction of "Dungeon Keeper" into modern gaming, but their welcoming demeanor quickly turned to disdain and disgust as they discovered their childhood dungeon strategy game was turned into a game crippled with microtransactions known as in-app purchases.
Microtransaction Outrage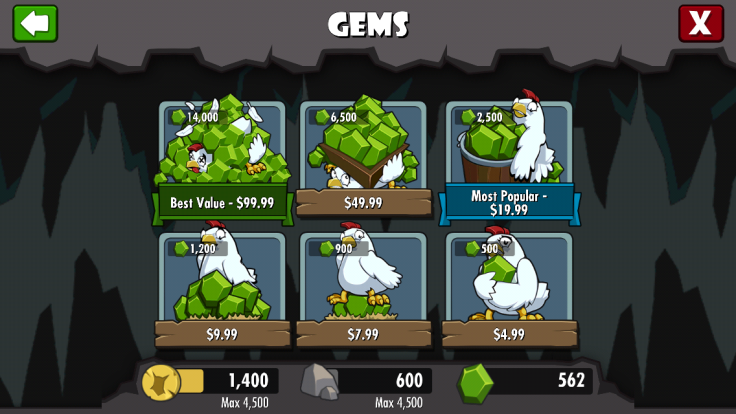 For those that have been playing games on mobile devices for some time, free-to-play has become somewhat the norm as developers look to cash in on the casual gaming market.
Under this model, players trade their time in exchange for the ability to play the game for free. If the waiting game is too much of an inconvenience, publishers such as EA "graciously" offer boosts that can be purchased for real money to help players progress through the game faster.
While this can be a game "feature" that turns certain players away, the success of free-to-play with casual games such as King's "Candy Crush" has game developers focusing more on finding ways to get their players to purchase these "boosts," rather than finding a balance between gameplay and revenue -- an equation with which developers have had mixed success.
EA may have overstepped its bounds with its implementation of long wait times and game actions that rely heavily on gems, which can also be purchased for real money. The gaming community behind "Dungeon Keeper" responded in kind, voicing their displeasure over Twitter (NYSE:TWTR) and social media sites such as Reddit.
Deceptive Google Play Ratings
While many players were vocally disapproving of this mobile incarnation of "Dungeon Keeper," some users on Android devices may have been sneakily prevented from voicing their displeasure.
Some Google Android players of "Dungeon Keeper" found that rating the game lower than five stars through an in-game prompt would direct users to a feedback box instead of continuing on to complete a Google Play store review.
"Dungeon Keeper" currently holds a 4.2 rating in the Google (NASDAQ:GOOG) Play store, with a majority of the reviews at five stars. In comparison, the Apple (NASDAQ:AAPL) iOS App Store doesn't redirect users if they rate lower than five stars. As a result, ratings spreads appear much different, with "Dungeon Keeper" averaging a 3 star rating, which is spread out more between five star ratings and one star reviews.

In a statement published in Eurogamer, EA responded to controversy surrounding reviews of the Google Play version of "Dungeon Keeper."
"We're always looking at new ways to gather player feedback so that we can continue to improve our games. The 'rate this app' feature in the Google Play version of 'Dungeon Keeper' was designed to help us collect valuable feedback from players who don't feel the game is worth a top rating. We wanted to make it easier for more players to send us feedback directly from the game if they weren't having the best experience. Players can always continue to leave any rating they want on the Google Play Store."
EA is correct that reviewers can leave any rating that they want on the Google Play Store; however, that's not doable through the in-game prompt.
Reviewer Backlash
Peter Molyneux, creator of the original 1997 "Dungeon Keeper," criticized EA for not balancing the game correctly, according to a BBC report.
A plethora of reviewers, including the Escapist's Jim Sterling, ehoed Molyneux's sentiment about the new "Dungeon Keeper."
"This certainly isn't Dungeon Keeper," Sterling noted. "With its babyish character designs, threadbare interactivity, and miserable begging for cash, it's 'FarmVille' for even bigger suckers."
Despite criticism and accusations that "Dungeon Keeper" was designed as a "pay-to-play" or "play-to-win" game, Jeff Skalski, senior producer of "Dungeon Keeper," told TabTimes unapologetically:
"We didn't design this as a 'pay to play' or 'pay to win' game. It is designed as a free-to-play title where players can commit time or money towards their play experience, and every piece of content in the game is accessible without having to spend a dime."
Based on critic reviews, "Dungeon Keeper" currently holds a rating of 46 out of 100. User reviews are dramatically lower with an average of 0.3 out of 10.
It's clear that fans of "Dungeon Keeper" are upset, but it remains to be seen if player reaction will prompt some change in the mobile gaming industry.
After all, overwhelming negative reaction to a broken release of EA DICE's "Battlefield 4 (BF4)" has sparked a significant response and change by developers.
Still, EA's success with other free-to-play properties such as its "Farmville" clone and "The Simpsons: Tapped Out" may have mobile gamer sentiments falling on deaf ears.
How do you think negative reaction to EA's "Dungeon Keeper" will affect the mobile gaming industry? Let us know your thoughts in the comments.
© Copyright IBTimes 2022. All rights reserved.
FOLLOW MORE IBT NEWS ON THE BELOW CHANNELS