'Kingdom Hearts' 20th Anniversary Brings 2 New Games
KEY POINTS
"Kingdom Hearts Missing-Link" is a new mobile game spin-off featuring a new cast of characters
"Kingdom Hearts IV" features photorealistic graphics and a completely new world to explore
No release dates have been announced
The 20th anniversary of Square Enix's long-running "Kingdom Hearts" series surprised gamers with the announcement of a new mobile game as well as the latest entry into the mainline series.
"Kingdom Hearts Missing-Link" will star a new group of protagonists whom players will be able to control in fast-paced action combat similar to the games for consoles. This is in stark contrast with the previous mobile game, "Kingdom Hearts Dark Road," which featured turn-based combat.
"Missing-Link" will be set in the city and surroundings of Scala ad Caelum, which was first introduced in "Kingdom Hearts III." The city will be fully explorable on a 3D overworld map.
The second half of the anniversary video revealed "Kingdom Hearts IV," which now sports a more realistic aesthetic. The trailer starts with Sora waking up in a high-rise apartment in a city that resembles modern-day Tokyo. As a giant Heartless materializes on the city's streets, Sora springs into action with his iconic keyblade.
According to a Square Enix press release, "Kingdom Hearts IV" will mark the beginning of the new "The Lost Master" story arc, and it will begin in the city of Quadratum, which is officially described as "a large, expansive city set in a gorgeous, realistic world."
Iconic Disney characters like Goofy and Donald will remain integral to the story, but Square Enix also teased the introduction of Strelitzia, a mysterious new character of some importance.
Details regarding "Kingdom Hearts IV's" gameplay are yet to be revealed, but the trailer implies that a fluent movement system will be available to help traverse Quadratum's busy streets. Sora can be seen using the new, acrobatic moves in the fight against the giant Heartless, zipping through obstacles and grappling onto objects while in combat.
There has been some discourse within the "Kingdom Hearts" community about the game's new artstyle. Some fans liked the more realistic aesthetic that dips more into "Final Fantasy" territory, but others remain hopeful that the game will still retain its cartoonish elements in one way or another, like how "Kingdom Hearts III's" art changed depending on which world players found themselves in.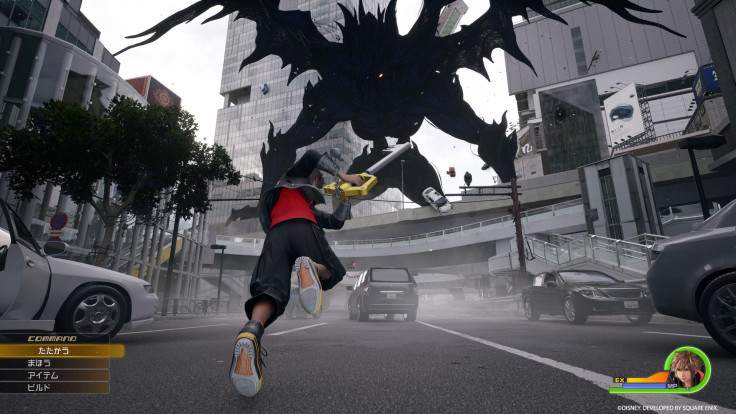 © Copyright IBTimes 2023. All rights reserved.