Is 'The Kitchen' Based On A True Story? The Inspiration Behind The Movie
In the new movie "The Kitchen," Melissa McCarthy, Tiffany Haddish, and Elisabeth Moss all play the wives of newly-imprisoned mobsters who are tasked with facing life alone after their husbands are locked up for gang activity. As the plot seems plausible, it may leave many moviegoers asking themselves whether or not the story is actually true.
Set in the '70s, the three women decide to take matters into their own hands in terms of protecting themselves when they realize that the mob is not keeping up their end of the bargain when it comes to supporting them as they go it alone. The trailer can be viewed below.
While it does sound as though it could have been based on real people, the actual inspiration for the movie didn't come from specific women but instead from DC Vertigo, a DC comics imprint that "released more adult stories than the prime DC line," according to Bustle.
However, it did additionally draw from real crime events that happened in the Hell's Kitchen area in that decade. The Irish gang called the Westies that was stationed in the region from the 1960s to the 1980s offered a bit of particular inspiration for writer Ollie Masters.
In 2014, Masters spoke to USA Today about his inspiration when the comics were initially released, saying everyone who worked on the project loved it "because everything about that time just seems so dangerous but exciting."
Continuing, the author said, "Crime was rampant in the city, the Mafia and Irish gangs like the Westies in Hell's Kitchen were a more prominent part of people's day-to-day life than they are now. You had this kind of gangster Wild West happening in the streets but you also had a boom in creativity and a feeling that anything could happen. Even three housewives taking over their husbands' gang."
As for how the three women navigate their new lives, Masters said that "they've now got this opportunity to build something that's their own. For better or worse, they begin to realize who they really are as people."
"The Kitchen" opens in theaters on Aug. 9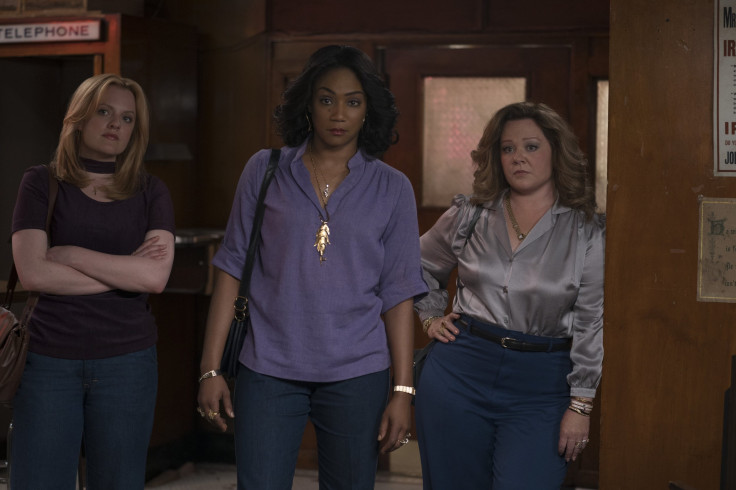 © Copyright IBTimes 2023. All rights reserved.