Kristen Stewart Rupert Sanders Photos Show Cheating Kristen Wearing Robert Pattinson's Beloved Hat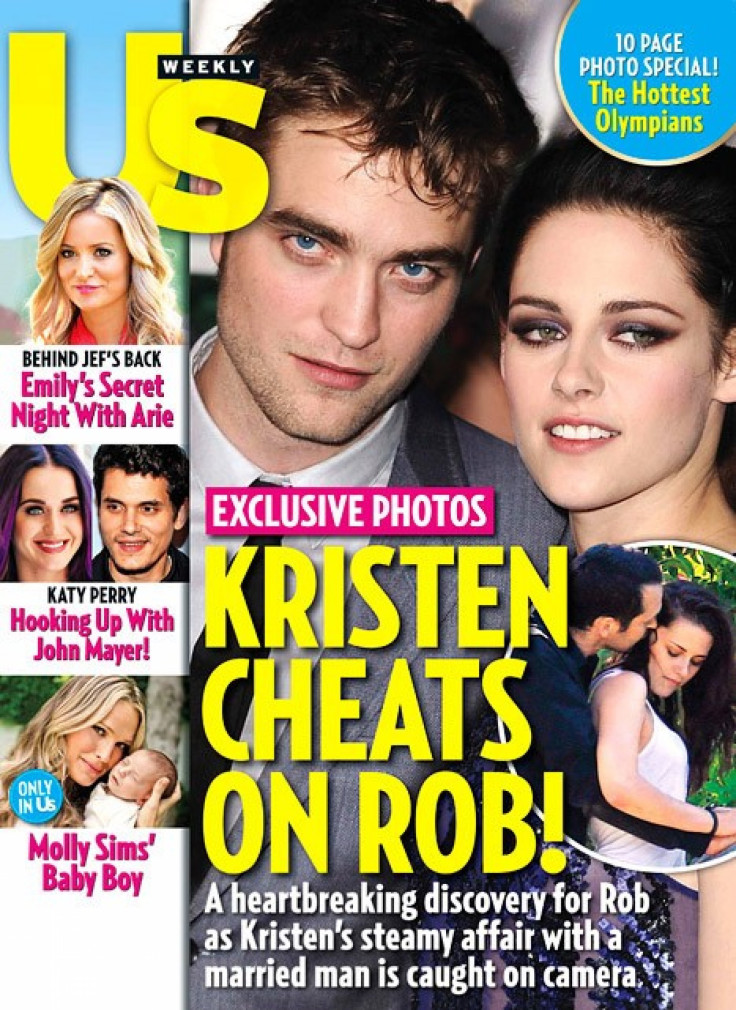 News broke earlier this week that "Twilight" actress Kristen Stewart" cheated on her co-star and boyfriend Robert Pattinson with the 41-year-old married director of "Snow White and the Huntsman," Rupert Sanders. Since photos were leaked by Us Weekly, we have learned of new developments in their cheating scandal.
Despite Stewart's public apology on Wednesday, Pattinson has moved out of their Los Angeles love nest. Sources revealed to the Huffington Post that the "Twilight" and "Water For Elephants" heartthrob is "heartbroken and humiliated" from Stewart's infidelity. To further fuel Pattinson's heartbreak, new pictures show that Stewart wore her boyfriend of four years hat while having her steamy rendezvous with Sanders.
Besides the photos from July 17 that show Stewart and Sanders in an intimate embrace and hot hookup in the car, Us Weekly has also captured one that delivers a slap in the face to Pattinson. Stewart was caught driving Sanders around that day wearing her boyfriend's beloved LA Dodgers hat.
Us Weekly reports that the "LA Dodger" photo in question depicts the pair "scoping out secluded places to make out." Twenty-two-year-old Stewart had used the hat in an attempt "to go incognito." The plan was obviously unsuccessful.
According to the magazine, this isn't the first time that the actress has borrowed one of her boyfriend's hats in an attempt to blend in. Stewart was spotted wearing Pattinson's Baltimore Orioles hat at the Coachella Music Festival this past April.
During their highly publicized July 17 tryst, Rupert Sanders only donned sunglasses to help disguise himself.
The pair reportedly "seemed like they couldn't get enough," with a photographer stating that Stewart and Sanders were having a marathon makeout session.
Friends of the starlet state that Stewart knew "it was a mistake and a complete lapse in judgment." Since the steamy photos surfaced, more shots of the the actress with the married director have come to light. A couple pictures circulating the web show the pair on a cozy dinner date.
Rupert Sanders, who has two young children with wife Liberty Ross, has since issued a statement of apology as well. Besides revealing how distraught he was over the pain he caused his family, he explained that "I am praying that we can get through this together."
© Copyright IBTimes 2023. All rights reserved.