Laquan McDonald Chicago Protest Live Stream: How To Watch The Demonstration Online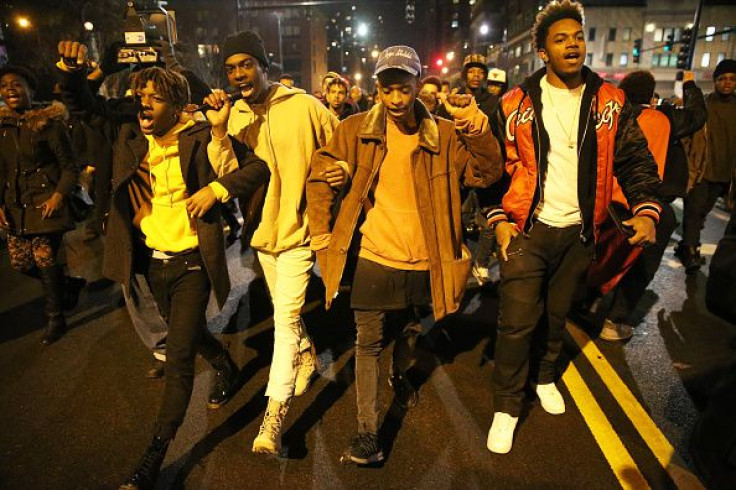 UPDATE: 10:47 p.m. EST -- Three protesters arrested in an altercation involving a Chicago police officer on a bike will be held overnight, the Guardian reported. It was not clear why they were detained, but the trio will not be released until 4 p.m. local time Wednesday, attorneys told the Guardian. Others involved in the demonstrations protesting the fatal shooting of Laquan McDonald have demanded the protesters' release.
Original Story:
Protesters took to the streets of Chicago on Tuesday night following the release of a police car dashboard video from 2014 that showed police Officer Jason Van Dyke fatally shooting a 17-year-old black youth. The graphic footage of Laquan McDonald's death spurred protests down Michigan Avenue, where protesters chanted, "We got to fight back."
About 100 protesters gathered in the area, after city officials released the video following a Tuesday news conference, where they addressed the fact that Van Dyke was charged Tuesday with first-degree murder and was denied bail in connection with the death. Protesters chanted "16 shots" in reference to the number of times Van Dyke shot McDonald.
The video from the police car's dashboard camera was released Tuesday after Chicago police received a court order to release the footage before Wednesday.
Due to the graphic nature of the video, city officials expressed concern about possible riots in Chicago, once the images were made public. At the news conference, police Chief Garry McCarthy asked protesters to respond peacefully.
"We will be intolerant of criminal behavior in Chicago," McCarthy said.
Three protesters were reportedly detained Tuesday night during the protests, WGN-TV reported. It was not immediately clear why they were arrested, but the incident reportedly involved a confrontation with a police officer on a bike. The police officer was taken to an ambulance, the Chicago Tribune reported.
Protesters called for the trio's release and were gathered outside a Chicago Police Department building at South State Street. A live stream of the demonstrations can be viewed on Periscope here.
© Copyright IBTimes 2023. All rights reserved.