Laquan McDonald Shooting Update: Chicago Police Officer Jason Van Dyke Indicted On 6 Counts Of First-Degree Murder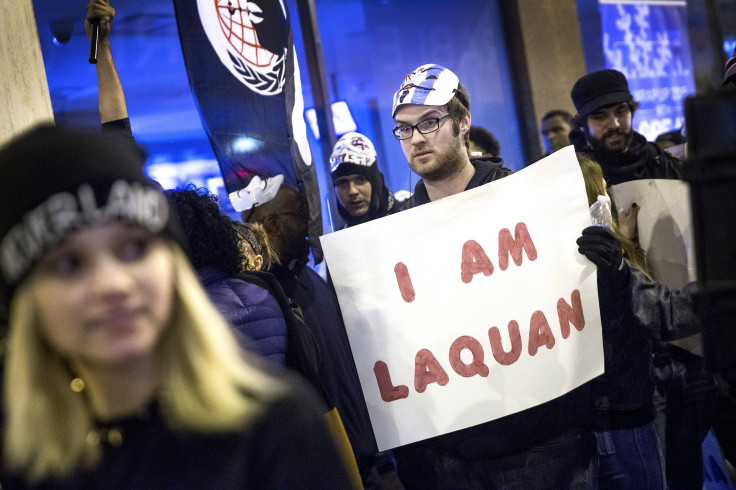 Jason Van Dyke, the white Chicago police officer charged in the shooting of a black teenager, has been indicted on six counts of first-degree murder and one count of official misconduct, according to the indictment copy posted on Chicago Tribune's website Wednesday. On Nov. 24, Van Dyke was charged with one count of murder before a court ordered the city to release a dashboard camera video of the October 2014 shooting of Laquan McDonald.
A grand jury indicted him on Tuesday saying that Van Dyke "without lawful justification, intentionally or knowingly shot and killed Laquan McDonald while armed with a firearm," according to the indictment copy. It also stated that Van Dyke knew that his actions would cause "bodily harm" to McDonald.
This marks the first time a Chicago police officer has been charged with first-degree murder for an on-duty killing in about 35 years, the Chicago Tribune reported. Van Dyke's attorney Daniel Herbert reportedly did not comment on the indictment.
Police had earlier argued that Van Dyke shot McDonald in self-defense, saying that the 17-year-old lunged at the officer with a knife. An autopsy confirmed that McDonald was shot 16 times.
The initial dashcam footage released 13 months after the incident showed the officer shooting McDonald repeatedly. "The first shot or two seem to spin him on the ground. He falls down. He's down on the ground, and for the next 30 seconds or so, in this video, the officer just continues to shoot," Jeff Neslund, who represents the McDonald family, said in November. "What you see are graphic puffs of smoke rising from Laquan and intermittently his body twitching, in reaction to the shots."
Following the video's release, protesters took to the streets, criticizing the delay in making the footage public and in charging Van Dyke with first-degree murder.
Late November, four additional dashboard camera videos were released. While the shooting itself was not in the frame, the videos showed McDonald on the street following the incident, alive just before paramedics arrived at the scene. One of the videos was reportedly from Van Dyke's car.
© Copyright IBTimes 2023. All rights reserved.