Las Vegas Shooting 2017: Celebrities React After Mass Attack On Strip
A mass shooting on the famed Las Vegas strip that has so far left 50 dead and more than 100 has resulted in several prayers and calls for action amongst Hollywood celebrities.
Following news of the shooting breaking out around 4 a.m. EDT Monday morning, several celebrities immediately took to social media to reflect on the horrifying situation, sharing their thoughts on what has now become the worst mass shooting in recent U.S. history, surpassing the 2016 attack on Pulse nightclub in Orlando, Florida, which killed 49.
The shooting, which broke out during Jason Aldean's closing set at the Route 91 Harvest country music festival, began after suspect Stephen Paddock, 64, opened fire on concertgoers from the 32nd floor of the Mandalay Bay Hotel and Casino, which was across the street from the concert grounds.
Shortly after the shooting, Aldean quickly took to Instagram to ask fans to pray for the city, letting everyone know he and the members of his crew had found safety. In his post, he also revealed his devastation that the carnage interrupted what should have been a fun night for those attending the music festival.
Other country music stars who were at the concert both at the time of the shooting and earlier this weekend, also took to social media to share thoughts and reveal if they were safe to their fans, including Chris Young, who described how haunting the experience was as he hid for safety.
Other celebrities who were in Las Vegas at the time, though not necessarily at the concert, also took to social media, including singer Trey Songz, and the magician Teller, of the duo Penn & Teller, who perform shows in the city, who also shared with their fans that they were safe and sent prayers for the victims.
Others have also since spoken out about the shooting, with several sending prayers to the victims.
Other celebrities also took to social media to express shock and anger that after other horrific events in recent years, that such carnage was still possible.
Comedian and actor Russell Brand has since also taken to social media to say he wouldn't be making a planned appearance on "The Today Show" in New York out of respect for the victims.
Reports on the shooting are still updating, though earlier this morning, Las Vegas police did say they had managed to locate Paddock and kill him. His companion, Marilou Danley, whom police had been calling a "person of interest", had also reportedly been located.
With the death toll currently attached to this shooting, it becomes the deadliest such attack in recent U.S. history. According to USA Today, the other deadliest shootings in U.S. History were the Pulse nightclub massacre in 2016, the 2007 Virginia Tech shooting which left 32 dead, the Sandy Hook elementary school shooting in Newtown, Connecticut in 2012 that saw 20 children and six adults killed. In terms of recent shootings, the next deadliest had been the San Bernardino, California, terrorist attacks in 2015, which left 14 people dead.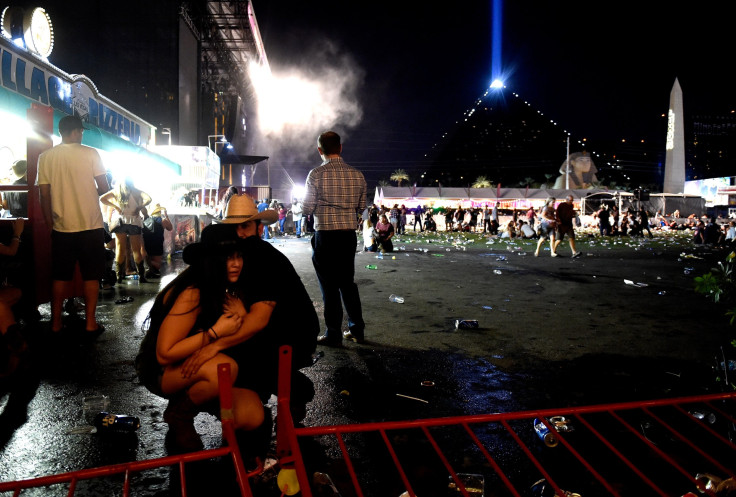 © Copyright IBTimes 2023. All rights reserved.