'Last Comic Standing' 2015 Top 5 Revealed: Meet The Remaining Finalists Fighting For The Grand Prize Ahead Of The Season 9 Finale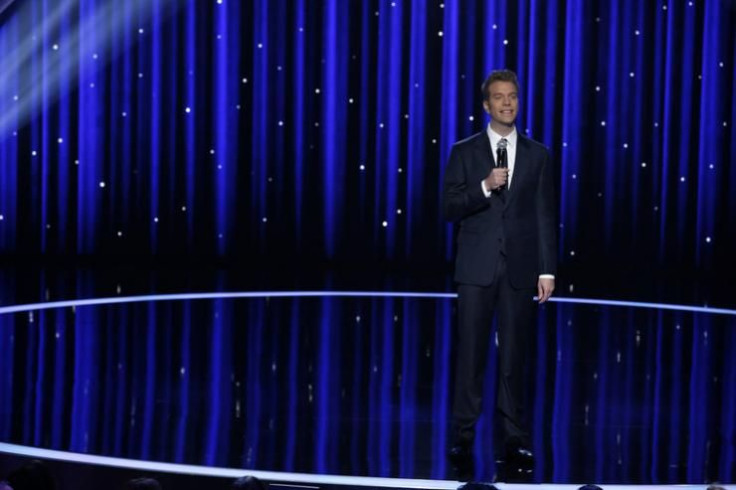 Although it feels like it just started, Season 9 of NBC's "Last Comic Standing" debuted its penultimate episode Wednesday, Sept. 2, With only five comedians left out of the hundreds that fought for supremacy in 2015, it's time to take a deeper look at the potential winners before next week's crowning finale.
The 2015 show began with a cavalcade of invitational sets in which the remaining five comics; Michael Palascak, Ian Baag, Dominique, Andy Erikson and Clayton English, all had to outshine some of America's best working standup performers in order to impress the Season 9 judges.
Ultimately, it was Roseanne Barr, Norm Macdonald and Keenen Ivory Wayans that decided time and again to move these five stellar comics forward week after week based on a new, brief set on the "Last Comic Standing" stage. Unfortunately, only one can come out on top. To help you in rooting for your favorite next week as the trio of judges passes their final verdict, below is a rundown of everything you need to know about the remaining five comedians.
Warning: Clips may be NSFW.
Michael Palascak
First of all, it's pronounced (Pal-a-sack). This comedian's star has been on the rise in recent years thanks to performances on late night TV, such as "The Late Show with David Letterman," "The Tonight Show with Jay Leno," "The Late Show with Craig Ferguson," "The Half Hour" and, most recently, "Conan." He aggressively moved ahead in the competition thanks to his tight observational humor combined with stories about himself and his life. According to his website, he bounced around the Midwest for a while as a child before ending up in Wabash, Indiana. He soon made his way to Chicago where he began his career studying everything from standup to sketch and improv.
Ian Bagg
This highly energetic performer was a standout from the very beginning. He has a unique style in which it looks as though he's doing crowd work when really he's delivering a tight, dense set of pre-written material. Similar to Palascak, Bagg's biggest claim to fame has been a cadre of last night performances, such as "Late Night with Conan O'Brien," "The Late Late Show with Craig Ferguson" and "The Tonight Show with Jay Leno." According to his website, the Canadian-born comic has been working in the industry for many years and has made several TV and movie appearances while trying to break his unique style into the mainstream. In fact, he's been around so long that Norm Macdonald confessed to being friends with him just after his first performance on the "Last Comic Standing" stage. For more of his work, you can check out his CD "It Takes A Village" and his "Last Comic Standing" semifinals performance below.
Dominique
Being one of the older performers left on the show, Dominique Witten got her start, of all places, in a mail room. The Washington D.C. native worked as a postal worker on the night shift where she entertained her fellow postal workers with material to keep them alert. Soon she tried her hand at standup and attracted the attention of HBO's "Def Comedy Jam." After that went well, she moved to New York City where, according to her website, she impressed "30 Rock" and "Saturday Night Live" star Tracy Morgan, who made her his opening act for a while. She prides herself on making her style both raw and uncut. On the "Last Comic Standing" stage alone, she tackles heavy topics, like death, unhappiness and family with a perspective and attitude that is unflinchingly her own. Even in her head-to-head round, she found herself an unparalleled performer on the "Last Comic Standing" stage.
Andy Erikson
Erikson, or as fans of "Last Comic Standing" know her, "The girl with the high-pitched voice," is no stranger to standup comedy competitions. She's been a semifinalist in live shows, such as the 2011 Laughing Skull Comedy Festival, the 2009 Boston comedy Festival and the 2009 Andy Kaufman Award. She's also taken home the big win at events like the House of Comedy's 2010 Funniest Person Contest, was named Duluth's Funniest Person in 2009 and won the 2009 Aspen Rooftop College Comedy Festival. According to her website, she believes that the only thing that surpasses her love of squirrels and unicorns is standup comedy.
Clayton English
While English is a very successful standup comedian, proving so time and again each week, he's also a pretty well accomplished actor. He's best known for his role as Terrence in the movie "Preacher's Kid" or his guest spot on "Tyler Perry's House of Payne." According to his "Last Comic Standing" profile bio, posted below, English has been working on his standup act for 10 years. He and a friend worked at a cell phone stand in the local mall and began crafting his comedy chops alongside his friend – Season 8 "Last Comic Standing" finalist Karlous Miller. Together they decided to get into standup comedy, and for English, the rest was history. The Atlanta native brings a high-energy set to the stage each night and manages to make his unique experience relatable to the crowd each time.
The "Last Comic Standing" Season 9 finale airs Wednesday at 10 p.m. EDT on NBC.
© Copyright IBTimes 2023. All rights reserved.