Latest California Wildfire Map Update Shows Where Fires Are Still Burning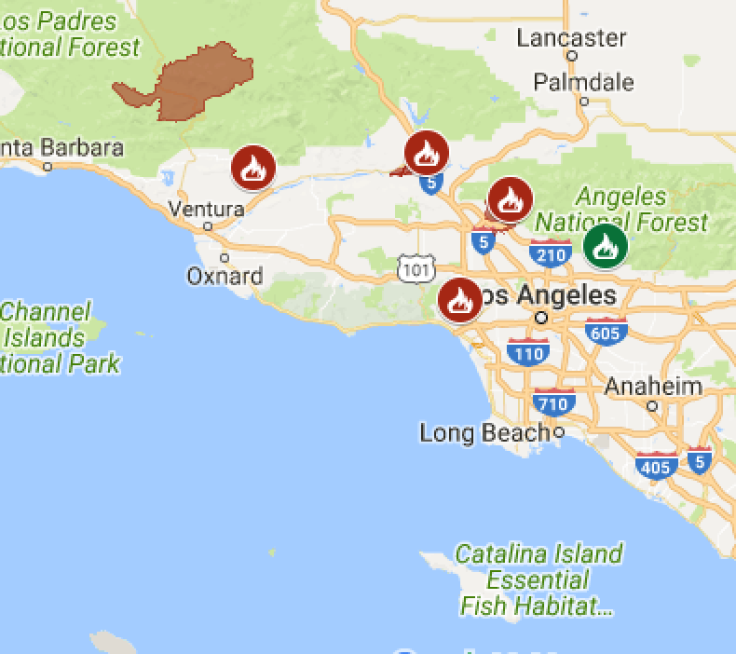 A number of major wildfires continued to rage in Southern California Thursday amid a week of Red Fire warnings in the state. Among the largest were the Thomas Fire, in Ventura County, and the Creek Fire, in Sylmar.
The latest map from the California Department of Forestry and Fire Protection showed where the fires were still burning.
Thomas Fire
The Thomas Fire, which began Monday in Ventura County, burned through 132,000 acres by Friday morning. The fire was just 10 percent contained, according to Cal Fire. At last count, 73 residential buildings and three commercial buildings were destroyed. Fourteen residential buildings were also damaged.
More than 2,500 fire personnel worked to combat the Thomas Fire using 471 fire engines and 12 helicopters. The flames continued to spread with "extreme rates of spread" thanks to high winds in the region.
Creek Fire
The Creek Fire continued to burn in Los Angeles County after breaking out Tuesday morning. Beginning near Kagel Canyon Road north of Lake View Terrace, the fire burned through 15,323 acres and was 40 percent contained by Friday morning.
Thirty-three homes were destroyed, while 28 were damaged, Cal Fire said. More than 2,000 firefighters were at the scene but officials said containment was challenging due to "high winds, poor access and steep, rugged terrain."
Rye Fire
The Rye Fire broke out along Rye Canyon Loop in Los Angeles County Tuesday and had spread across more than 6,000 acres of land by Friday morning. It was 35 percent contained, while almost 6,000 structures continued to be threatened by the flames. Nine hundred fire personnel were on hand to combat the fire, according to officials.
Skirball Fire
The Skirball Fire continued to burn along the 405 Freeway in Los Angeles County, spreading across some 475 acres. An estimated 4,000 residents were evacuated from the Bel Air neighborhood, while four homes were destroyed and 12 others were damaged, the Los Angeles Fire Department said.
Around 800 firefighters continued to fight the fire, which was 30 percent contained by Friday morning. One firefighter sustained a minor burn injury at the scene.
Lilac Fire
The Lilac Fire along Old Highway 395 at Dulin Road in Bonsall, San Diego County, burned through 4,100 acres by Friday morning. Sixty five structures were destroyed, and mandatory evacuations were in place for nearby residences. Three people were injured and 25 horses were killed at a thoroughbred training center as a result of the fire.
"We are in no way near the end of this," said Ron Lane, San Diego County's deputy chief administrative officer, according to the Los Angeles Times.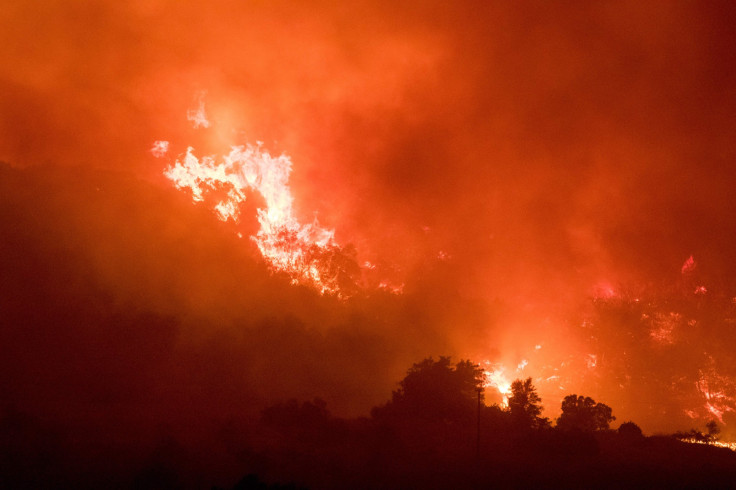 © Copyright IBTimes 2023. All rights reserved.