Latest Presidential Polls: Is Donald Trump Leading? Hillary Clinton Ahead In Swing States? Gary Johnson A Possible Spoiler?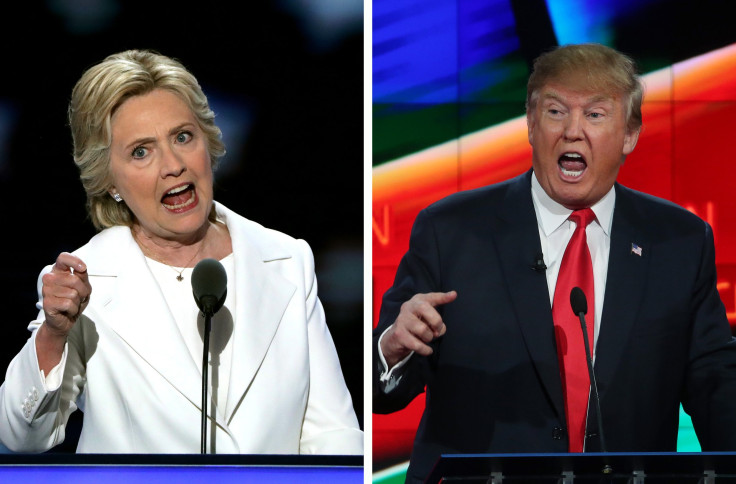 Donald Trump's campaign strategy in recent days has been to openly question the validity of the upcoming election results and contest the outcome should he lose. His comments, with the election 17 days away, perhaps serve as an admission that his White House bid will fall short to Democratic nominee Hillary Clinton.
"I will totally accept the results of this great and historic presidential election if I win," Trump said on Thursday. "Of course I would accept a clear election result, but I would reserve my right to contend or file a legal challenge, in the case of a questionable result."
But two of the last three most recent polls has the billionaire businessman leading in a four-way race among likely voters. An IBD/TIPP Tracking poll has Trump leading Clinton 41 percent to 40 percent, with Libertarian nominee Gary Johnson at 8 percent and Green Party nominee Jill Stein at 4 percent. A Rassmussen Reports poll had the Republican nominee at 43 percent, Clinton at 41 percent, with Johnson at 5 percent and Stein at 3 percent.
The showings by Johnson and Stein are part of a growing trend in this election cycle of voters considering third-party candidates at a time when voter dissatisfaction for the two major parties is very high. Both Johnson and Stein failed to reach 1 percent in the 2012 election, but both appear to have gained strong ground in 2016. Some political experts believe Clinton stands to suffer the most from growing support for third-party candidates.
However, the electoral map still heavily favors Clinton. In key battleground states, Clinton has widened her lead, and is even performing well in right-leaning states. An Atlanta Journal-Constitution poll released Friday had Trump at 44 percent with Clinton at 42 percent, and Johnson at 9 percent in Georgia.
Clinton doesn't necessarily need Georgia's 16 electoral votes to pull off a landslide victory. She also has leads in Virginia, North Carolina and Florida, and even Arizona, four states that have a combined electoral count of 68.
Clinton's lead is in double digits in Virginia, a state former president George W. Bush won twice. In North Carolina, which has already begun early voting, Clinton has consistently owned a slim lead, and the same goes for Florida.
Recent polls show Arizona, which hasn't voted for a Democrat since 1996, favoring Clinton. An Arizona Republic/Morrison/Cronkite News poll had Clinton with 39 percent and Trump at 33.9 percent, with 20.7 undecided.
Johnson remains an interesting candidate given his sharp rise in recent months. The former New Mexico governor was left out of all three nationally televised debates, yet has consistently polled above 5 percent.
"Ultimately, the two major party candidates for the presidency—Donald Trump and Hillary Clinton tip the scales in favor of power and control, and against freedom and liberty," said Johnson in a piece on Thursday.
© Copyright IBTimes 2022. All rights reserved.
FOLLOW MORE IBT NEWS ON THE BELOW CHANNELS