Latest Presidential Polls: Gary Johnson, Jill Stein Cutting Into Hillary Clinton And Donald Trump's Lead In Swing States?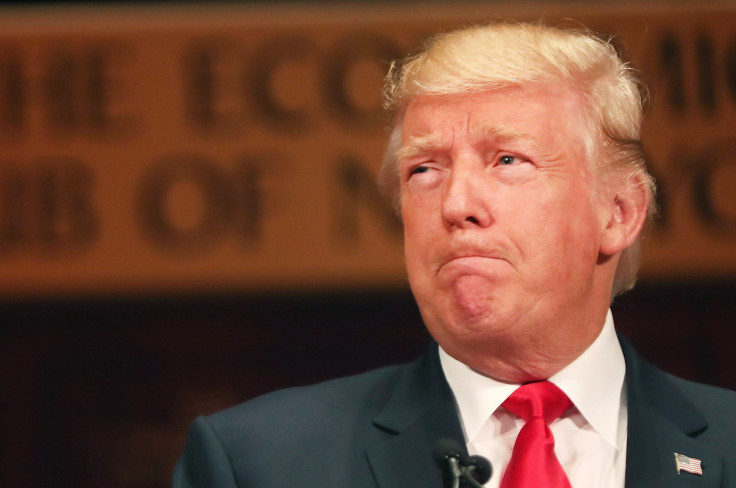 A CBS News/New York Times poll indicates Democratic nominee Hillary Clinton has a slim 46-44 edge over Republican nominee Donald Trump in a two-way race, but Clinton and Trump are tied in a four-way race, confirming growing sentiment that third-party candidates may influence the electoral-college map due the unfavorable ratings of the two leading candidates.
In a Quinnipiac University poll released on Wednesday, Clinton received a 57 percent unfavorable rating, while Trump had a 59 percent unfavorable rating. The figures are particularly poor compared to the 2012 campaign, when presidential incumbent Barack Obama had an unfavorable rating that hovered in the 46-48 percent range while Republican nominee Mitt Romney fared slightly better at 41-47 percent.
The unfavorable ratings for Clinton and Trump present an opportunity for Libertarians and the Green Party, two political groups that are often overlooked in campaign seasons. Libertarian nominee Gary Johnson and Green Party nominee Jill Stein have seen a sharp uptick in polls after both parties failed to draw 1 percent in the last election. The Quinnipiac poll had Johnson at 13 percent and Stein at 4 percent.
While both Johnson and Stein have seen an improvement in national polls, it's unclear if they can maintain such support in such an unconventional political climate. Neither is expected to reach the 15 percent needed to participate in the national debates and some third-party voters may switch to the Republicans or Democrats should the race remain tight to avoid a "spoiler" situation.
Stein likely rankled some liberal voters when she campaigned in highly coveted swing state Ohio in early September though her upcoming campaign events will take place in northeast states where Clinton enjoys sizable leads.
Recent polls had Trump leading Clinton in a two-way race in Ohio by as much as 48-43 and trailing 42-39 in a four-way race. Earlier this week, Sens. Bernie Sanders and Elizabeth Warren, among the Senate's most liberal members, announced they would campaign on behalf of Clinton in Ohio to court millennial voters.
Many Democrats no doubt worry Stein could siphon much-needed votes from other swing states as Green Party candidate Ralph Nader did in 2000. Democratic candidate Al Gore lost New Hampshire's crucial four electoral votes by 7,211 votes as Nader snapped up 22,198 votes. Bush defeated Gore in Florida by 537 votes as Nader garnered 97,488 votes.
But the rise in the polls doesn't always translate to enthusiasm on the campaign trail. Stein has a campaign stop in Madison, Wisconsin, on Thursday, but according to her official website, only 19 people are planning to attend the "Meet & Greet" at Dobhan Restaurant. She also has a fundraiser at the Barrymore Theatre two hours later with only one person planning on going.
Johnson is campaigning in Seattle this weekend, with hopes of making a late push for 15 percent in the polls to win an invitation to the Sept. 26 debate at Hofstra University in Hempstead, New York. But the prospect of Johnson reaching 15 percent in five major, national polls appeared dim.
In an interview with Chris Wallace on "Fox News Sunday," Johnson admitted he has no chance to win the general election if he doesn't get on the debate stage.
But Johnson has managed to increase his profile in 2016, and has a chance of making some states competitive. There was strong momentum for the former two-term governor of New Mexico to cut into Trump's leads in recent months. An internal poll conducted for Rep. Mia Love in early July had Trump at 29 percent, Clinton at 27 percent and Johnson at 26 percent in Utah.
"We are on our way up, and an awful lot of people are on their way out for Mr. Trump," Andrew McCullough, chairman of the Utah Libertarian party, told International Business Times in a July phone interview. McCullough, who is also running for state attorney general, had said Utah is one of six states Johnson was targeting.
However, Trump has extended his lead in Utah since July, according to a poll by UtahPolicy.com, which had 39 percent of likely voters saying they would vote for Trump, compared to 24 percent for Clinton and 13 percent for Johnson. Independent candidate Evan McMullin, who has traditional conservative views, received 9 percent in Utah.
And Trump seems to gain ground in a four-way race in some key swing states. A recent CNN/ORC poll in Florida had likely voters supporting Trump at 47 percent and Clinton at 44 percent. Johnson received 6 percent with Stein at 1 percent.
In a new North Carolina poll conducted by Civitas, Trump and Clinton are tied at 42 percent among likely voters, with Johnson receiving 5 percent and 9 percent are undecided.
A Monmouth University poll had likely voters in Iowa supporting Trump at 45 percent and 37 percent backing Clinton. Johnson received 8 percent, and Stein, 2 percent.
In Nevada, Clinton had previously owned a 44-42 lead on Trump, with Johnson at 5 percent. In the recent Monmouth poll, Johnson has jumped to 8 percent, and Trump now leads Clinton, 44 percent to 42 percent.
© Copyright IBTimes 2023. All rights reserved.