Least Influential People 2012: Mitt Romney, Madonna, Amanda Bynes, Guy Fieri Make GQ List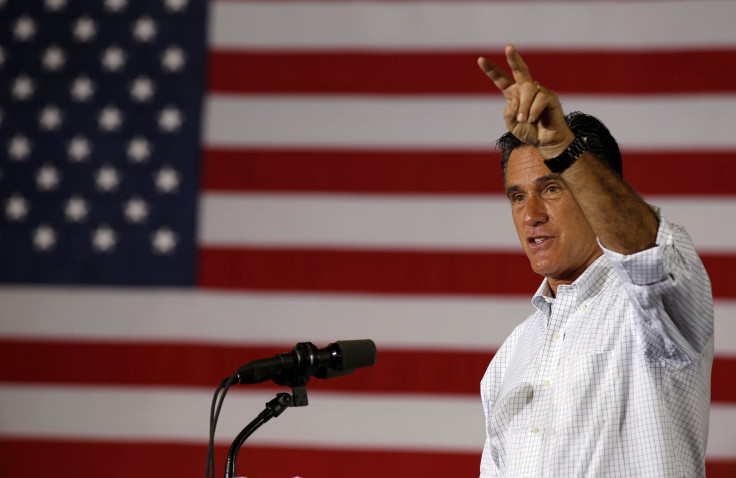 The knocks go on for Mitt Romney. After losing this month's election to President Barack Obama, the former Massachusetts governor and 2012 GOP presidential candidate made GQ's list of the least influential people of the year.
While Romney was No. 1 on the list, the men's magazine declined to call him the least influential person of 2012, giving the disclaimer that "all zeros are created equal."
"The only successful thing he did this year was embody every black stand-up comedian's impression of a white person," GQ said of Romney. "Thank God the election's over. No more endless photos of Mitt staring winsomely off-camera with that attempted smile on his face. No more glaring campaign mishaps week after week after week. No more labored media efforts to make him look like anything other than Sheldon Adelson's pampered money Dumpster. Good-bye, Mitt."
The list of the least influential people of the year described the cast of characters as "a collection of people so uninspiring that we should round them all up and stick them on an iceberg."
Actress Amanda Bynes, who was charged in two hit-and-run accidents this year, would be on the iceberg along with Romney if GQ had its way.
"I didn't think it was possible for God to invent a worse driver than Lindsay Lohan, but here you go," the magazine said of the actress.
Madonna also made the list of least influential people of 2012, with GQ having some harsh words for the Material Girl over her effort to look younger.
"It's time for you to stop putting out aggressively bland comeback albums and make room for Ke$ha and Katy and the other 800 female artists out there who change outfits every five minutes to distract people from their terrible singing," the magazine said.
Celebrity chef and restaurant owner Guy Fieri also is one of the year's least influential people, according to GQ.
The host of Food Network's "Diners, Drive-Ins & Dives," whose new Times Square restaurant, Guy's American Kitchen & Bar, received a scathing review from the New York Times, isn't well-loved by GQ, either.
The magazine called Fieri a "white-trash fusion chef."
"This year the white-trash fusion chef opened his flagship Manhattan restaurant, featuring a pork shank that was cooked like one giant piece of General Tso's chicken and a menu that explicitly declared, 'Go big or go home!' Crush that shank, you guys!" the magazine wrote. "I'd wager that 90 percent of his customers that first night were foodies planning to review the place ironically. The other 10 percent were tourists for whom Turkey Tequila Fettuccine represents the apex of molecular gastronomy. Oooh, a whole lamb bathed in Cheetos dust! FANCY."
Lance Armstrong, the former Tour de France champion who had a stunning fall from grace this year, also made the list of ignominy.
"Every year brings new and incontrovertible evidence that Lance Armstrong is the polar opposite of the inspiring legend he was once made out to be," GQ said. "Just this year, Armstrong dropped his fight against the U.S. Anti-Doping Agency in the most d------ and self-delusional way possible ('There comes a point in every man's life when he has to say, 'Enough is enough' '), then got fired by Nike and his own Livestrong charity. Also, Outside magazine found that Livestrong 'donates almost nothing to scientific research.' I put nothing past him anymore. By 2014, I expect him to be charged with supplying elephant growth hormone to Roger Clemens and orchestrating the civil war in Syria."
In arguably one of the harshest mentions on the list of least influential people, GQ named former Reagan press secretary James Brady, who has fought for gun control since he was crippled in the 1981 assassination attempt on the president.
The magazine pointed to the mass shootings of 2012, including the Colorado massacre at the premiere of "The Dark Night Rises," to back up its claim that Brady belongs on the list of least influential people.
"I'm sorry to put you on this list, sir. Your efforts to curb gun violence in this country have been admirable," the magazine wrote. "And yet we can't stop shooting one another. In fact, every time there's a mass shooting, we actually go buy more guns so that we can get to the next mass shooting even faster. Maybe we should move on to easier causes. Like grenade control. If we try hard enough, I think we could easily reduce mass grenadings in this country by 100 percent."
Other figures on the list of least influential people include 2012 presidential debate moderator Jim Lehrer, Hulk Hogan, Adam Sandler and Gotye. You can check out the whole list here.
© Copyright IBTimes 2023. All rights reserved.