Legal Marijuana States See Flood Of New Weed Products As Cannabis Goes Mainstream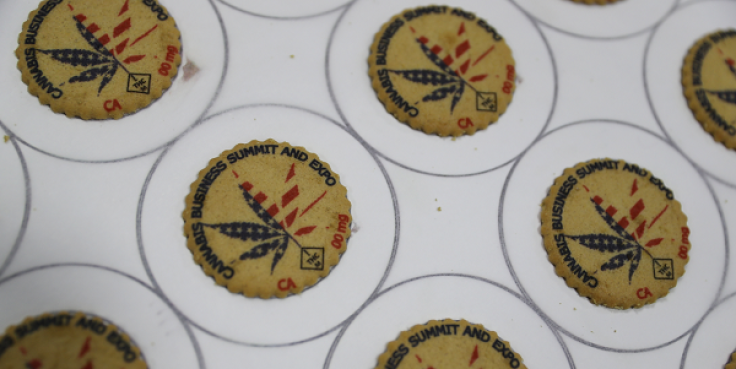 Imagine a group of young professionals enjoying a dinner party. It's time for dessert and everyone moves from the dinner table to the living room. A digestif is served alongside a handful of luxury chocolates that have a slightly sweet taste and a low-dose of THC that kicks in within 15 minutes, just as the coffee is ready from the kitchen.
With roughly 22 million Americans consuming marijuana on a monthly basis in 2015 and nearly 37 million people admitting to using pot at least once a year, marijuana brands and companies are increasingly looking to reach new consumers with upscale products that go beyond weed's reputation as an easy high for people who like to wear tie-dye shirts and listen to mellow music. The push is aimed at offering a greater variety of ways for people to consume cannabis, whether they are first-time users or people who may have smoked grass back in the day and are looking to ease back into the drug now that it is legal.
"If you look at what traditionally people think of when they think of a pot shop, they're thinking of a place with Bob Marley posters in it. There's nothing mainstream about that. That's not how you sell anything, but for some reason, that's how people think you sell pot. That's got to evolve," Adam Bierman, CEO and co-creator of MedMen, a California-based marijuana management firm, said during a phone interview with International Business Times.
The marijuana industry is now a $6.7 billion business, according to Forbes. Figures this high aren't easily achieved, especially not with down-market products sold in cramped stores covered in marijuana symbols, Bierman said.
Bierman and his co-founding partner, Andrew Modlin, were once consultants for business owners looking to break into the marijuana industry, but in 2015 MedMen refocused its mission and launched a management company, along with adding a private equity firm to their resume. Using their consulting experience and know-how, MedMen now helps business owners and agriculturers create, promote, distribute, sell and get funding for new products and marijuana farm, including their own West Hollywood dispensary that keeps cannabis fresh with state-of-the-art bud pods and their Sun Valley Cultivation site that grows plants with the latest agricultural technology like hydroponics and LED lighting.
"[People]always talk about mainstreaming [the marijuana] industry, and we run everything in that regard," Bierman said. "We're pretending it's tomatoes, and we're utilizing the best practices in technology and agriculture. We're using real science and extraction methodologies from the petroleum industry."
"It starts with the layout of the store, and then it flows into everything from customer service and offerings and everything else. So we don't look at this like we're selling pot. We look at it like we're building a grocery store or we're building an electronics store. It doesn't matter what it is, we're building it all with the same practices, the same principles."
Other marijuana businesses are also embracing the trend. With 28 states and Washington D.C. now offering legal marijuana in some capacity, it's important for the marijuana industry to grow along with the broadened demographic of people who have access to cannabis, said Peter Barsoom, creator of edible brand 1906.
"What we found is that the market really strongly caters to people who smoke cannabis in terms of the wide variety of strains that are available, and two, the heavy user male orientated consumer. For those of us who want to consume cannabis medicinally or recreationally in a nonsmoking format, you're really only left with an array of candy choices that are low and nonspecific, ineffective and inconsistent," Barsoom said.
1906 specializes in luxury chocolates that not only taste sweet but the company also brands itself on creating products with rapid release. While most marijuana edibles can take anywhere between 30 to 90 minutes for the effects to kick in, low-dose THC extracts in 1906 chocolates are released and felt within 15 minutes. The ethnobotanical brand, which combines marijuana with many of the same plants used for healing in Chinese medicines and teas like peony, magnolia and corydalis, offers chocolates specifically designed to help with sleep, relaxation and energy.
"What we set out to do is create a brand and a company that catered to responsible health conscious adults," Barsoom said.
1906 also aims to tackle issues in the market that could deter consumers, such as making sure products clearly state their effects, he said.
"There a lot of people who tried cannabis back in the day, and they're coming back into the market now that it's legal. And so we need to give them products that they can try without fear, safe products that they can trust and know how it's going make them feel, something that's upscale, sophisticated and is appealing to a variety consumers," Barsoom added.
As the industry becomes more sophisticated, Missy Bradley, owner of marijuana-infused tea company, Stillwater, suggested more education on marijuana's uses, effects and proper dosing is what's needed to continue to bring the plant into the mainstream.
Stillwater started out catering to baby boomers and people who weren't necessarily looking to get high but wanted to relieve stress and anxiety with low dose cannabis instead of pharmaceuticals, wine, alcohol and other substances. Since its introduction to dispensaries in Colorado in June, the company has evolved their Egyptian mint, Darjeeling green and Assam black teas to benefit all types of marijuana users by offering products ranging from 2.5 milligrams of THC to 10 milligrams, which can be used by first timers or people with high tolerances looking to micro-dose.
"If you've never consumed marijuana or you did it a long time ago and you don't really know what it was – there are so many products in the market right now – if you don't have someone teaching you about what [the products] are and what effect [products] might have or telling you that the effect may vary from person to person, it's scary and you might get a product that's not right for you," she said.
Dispensary owners must also make sure "budtenders" are trained and aware of how to approach and sell to different types of customers, she said.
"An educated budtender is a good budtender," she added.
Bierman, who will have five dispensaries under the MedMen umbrella along with a $15 million high-tech marijuana Dutch greenhouse opening later in 2017, said as more people become exposed to marijuana in their communities, the easier making the industry more mainstream becomes.
"I love the fact that we can say we legalized pot in California, Nevada, Maine and Massachusetts all in the same day, but it means more to me to say 60-percent of people live in a state where marijuana is now some way, shape or form, legal, because that is mainstreaming it," Bierman said. "That makes our job easier. That makes it more acceptable. People can see that this is going on in and around them in their communities, and if anything, it's a positive to the community."
© Copyright IBTimes 2023. All rights reserved.
FOLLOW MORE IBT NEWS ON THE BELOW CHANNELS