A Lemon Pig Could Bring You Good Luck In 2022: How To DIY
If you are looking to make 2022 your year, a little bit of luck won't hurt. Enter the lemon pig.
Yes, the lemon pig is a craft project turned good luck charm that many are turning to in the New Year to bring them a better 2022.
As history goes, these tabletop centerpieces that were once popular in the 19th and early 20th centuries have made their way back into fashion when cookbook writer Anna Pallai reposted a vintage recipe from the 1971 party planning book "401 Party and Holiday Ideas from Alcoa," according to CNN.
Alcoa is an aluminum company, which created the cookbook to sell more foil, which is used to create the lemon pig's curly tail.
The lemon pig — a lemon with toothpick legs, penny mouth, and cloves for eyes — soon circulated social media as users showed off their designs as they wished for good luck in the New Year.
But the early origins of the lemon pig weren't about luck at all.
The first mention of the lemon pig was in a book by Frank Bellow, "The Art of Amusing," published in 1865. It describes how the lemon pig delighted children but made no mention of how it brought them any luck, CNN noted.
Even President Rutherford B. Hayes received a lemon pig from a citizen when he served as 19th President of the United States, which to this day sits in the Jimmy Carter Presidential Library and Museum. It has survived over 100 years, albeit a bit withered and brown.
If you are looking to increase your odds of more luck in 2022, you can create your own lemon pig. Here's how to do it yourself!
Get a good size and shapely lemon, which will serve as your lemon pig body.
Cut a slit on one end of the lemon with a knife which will be the mouth of your lemon pig and will be where you will stick the penny.
Above the mouth and on the sides of the lemon, shave and sculpt two round ears with a knife.
Push in two black peppercorns or cloves above the mouth that will be the eyes of your lemon pig.
Add four toothpicks for legs at the bottom of the lemon body of your pig.
Twist a piece of aluminum foil into a curly tail and push it into the back end of your lemon body, as this is where the tail of your lemon big will be.
Add your penny to your lemon pig's mouth and wish for a lucky 2022!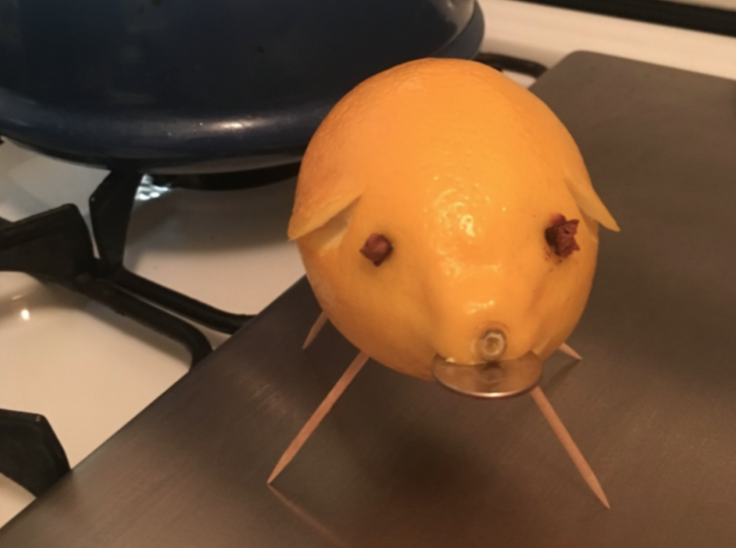 © Copyright IBTimes 2023. All rights reserved.