Leonardo DiCaprio's Foundation Auctioned Off Dates With Kevin Spacey, Harvey Weinstein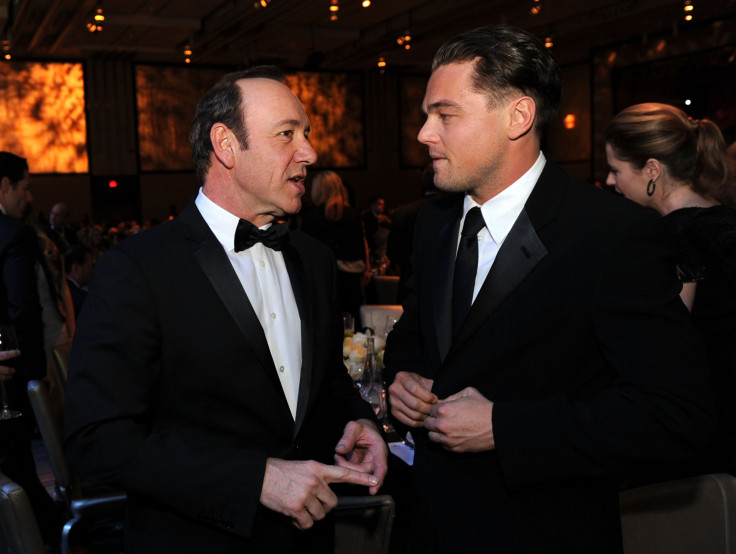 There was a time when Hollywood mogul Harvey Weinstein and "House of Cards" star Kevin Spacey were highly respected individuals in their fields, and spending time with them was considered a real treat.
In fact, the Leonardo DiCaprio Foundation used to make money by auctioning off intimate moments with Weinstein and Spacey, according to Page Six.
Back in 2016, the foundation auctioned off a private theater performance in Spacey's home. In 2015 and 2016, it made money out of the "Courtesy of Harvey Weinstein" experience, which includes personal moments at the producer's table at his company's annual dinner party on the eve of the Oscars and walking the red carpet with him at the Met Museum ball.
One package with Weinstein even included two tickets to the 2017 Super Bowl, two invites to the White House Correspondents' Dinner and two front-row seats at the "Project Runway" finale. The winner could visit a set with Weinstein "to see how a movie is made in front of your eyes."
It was unclear how much money they raised for these packages, but the proceeds of the auction all goes to DiCaprio's charity, which raises awareness on environmental and wildlife causes.
After both men were accused of sexual assault, DiCaprio issued a statement dismissing their actions. "There is no excuse for sexual harassment or sexual assault — no matter who you are and no matter what profession," it read. "I applaud the strength and courage of the women who came forward and made their voices heard."
While many criticized and ostracized them for their past misdeeds, there were some people who still pitied Spacey. One such person is Laurence Olivier Award winner and four-time nominee Anthony Sher, who hopes Spacey would be given a second chance in Hollywood. Otherwise, his talent would go to waste.
"I hope so, because he's an absolutely tremendous actor and if, I guess, in the past we have forgiven people's personal weaknesses it's a tremendous loss to acting," he told Emily Maitlis of Newsnight.
Alec Baldwin, who now hosts the new program, "Sundays with Alec Baldwin," also offered his sympathies to the fallen "House of Cards" star.
"It's always so sad to watch people self-destruct. Even though they're horrible people, some of them. Like Kevin Spacey," said Baldwin. "I love Kevin, but Kevin was a big fan of [Kevin]. Kevin was the president of Kevin's fan club."
© Copyright IBTimes 2023. All rights reserved.